A few days ago, we asked Candy Girls and Boys via Facebook to share with us the most beautiful lines they've heard in a movie. We got a lot of suggestions from all of you, and it was definitely not easy to choose. Here are 20 the made it to this list: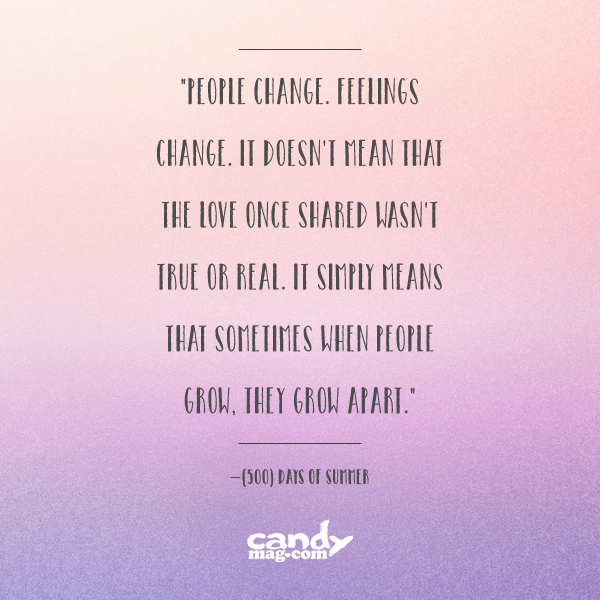 ADVERTISEMENT - CONTINUE READING BELOW
1. Abe Dado: "People change. Feelings change. It doesn't mean that the love once shared wasn't true or real. It simply means that sometimes when people grow, they grow apart." —(500) Days of Summer
2. Paulyn Amandy: "But our love is like the wind, I can't see it but I can feel it." —A Walk to Remember
3. Allyssa Marie Moriones: "We accept the love we think we deserve." —The Perks of Being a Wallflower
4. Kat Lombres: "You gave me a forever within the numbered days, and I'm grateful." —The Fault in Our Stars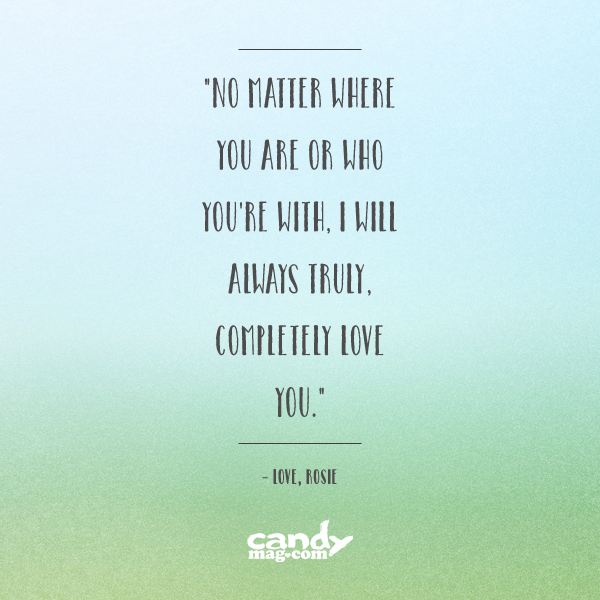 5. Menma Rou: "No matter where you are or who you're with, I will always truly, completely love you." - Love, Rosie
6. Janyn Montealegre: "General opinion's starting to make out that we live in a world of hatred and greed, but I don't see that. It seems to me that love is everywhere. Often, it's not particularly dignified or newsworthy, but it's always there—fathers and sons, mothers and daughters, husbands and wives, boyfriends, girlfriends, old friends. When the planes hit the Twin Towers, as far as I know, none of the phone calls from the people on board were messages of hate or revenge. They were all messages of love. If you look for it, I've got a sneaky feeling you'll find that love actually is all around." —Love Actually
7. Alyssa Monica Pingol: "You are My friends. There is no greater love than for a man to lay down his life for his friends. I cannot be with you much longer, My friends. You cannot go where I am going. My commandment to you after I am gone is this: Love one another. As I have loved you, so love one another." —The Passion of the Christ
ADVERTISEMENT - CONTINUE READING BELOW
8. Julie Carino: "I'm just a girl standing in front of a boy asking him to love her." —Notting Hill
READ: 10 Lines Girls Who've Never Had a Boyfriend Are Tired of Hearing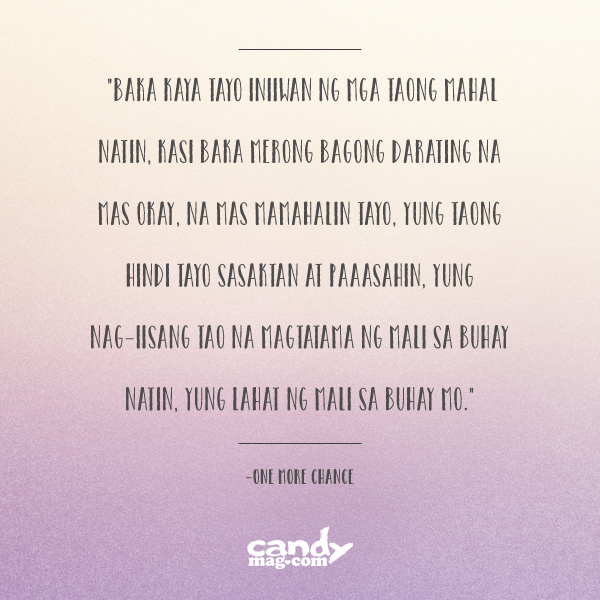 9. Aebee Bernal: "Baka kaya tayo iniiwan ng mga taong mahal natin, kasi baka merong bagong darating na mas okay, na mas mamahalin tayo, yung taong hindi tayo sasaktan at paaasahin, yung nag-iisang tao na magtatama ng mali sa buhay natin, yung lahat ng mali sa buhay mo." —One More Chance
ADVERTISEMENT - CONTINUE READING BELOW
10. Danielle Patag: "She loved mysteries so much that she became one." —Paper Towns
11. Yan Abarra: "Some people are worth melting for." —Frozen
12. Kitkat Villareal: "So it's not going to be easy. It's going to be really hard. We're going to have to work at this everyday, but I want to do that because I want you. I want all of you, forever, every day. You and me, every day." —The Notebook
READ: The Funniest Lines from Some of Our Fave TV and Movie Characters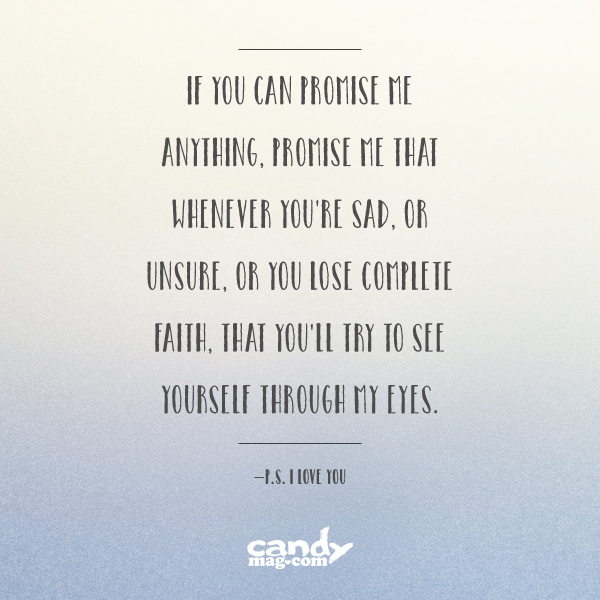 ADVERTISEMENT - CONTINUE READING BELOW
13. Jan Monalisa Palces Castillon: "If you can promise me anything, promise me that whenever you're sad, or unsure, or you lose complete faith, that you'll try to see yourself through my eyes." —P.S. I Love You
14. Mikay Soriano: "He has no idea how rare you are." —Two Night Stand
15, Kathleen Joyce Aguilar: "You want me to fall back in love with you? How do I do that if I haven't ever stopped?" —The Best of Me
16. Yobie Parcon Debil: "You know I fell inlove with you the first time I saw you, you're just the most amazing beautiful girl I've ever met and somehow..I dont know, somehow you chose me but how I loved you then its nothing compared on how I love you now. I love you with everything inside of me. I think you should go. I love you so much and I want you to be happy, even if that happy is no longer includes me." —The Longest Ride
ADVERTISEMENT - CONTINUE READING BELOW
READ: 13 Inspiring Lines From Emma Watson During Her #HeForShe Facebook Conversation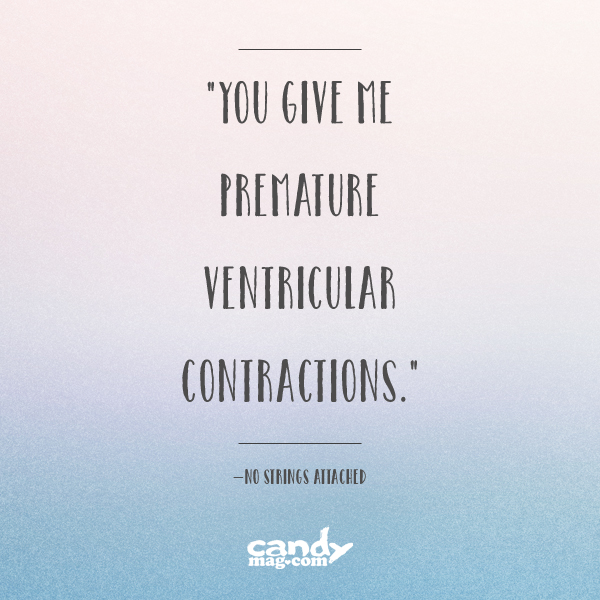 17. Shaira Santos: "You give me premature ventricular contractions." —No Strings Attached
18. Janaika Gwen Garcia: "'What' and 'if' are two words as non-threatening as words can be. But put them together, side-by-side and they have the power to haunt you for the rest of your life." —Letters to Juliet
19. Christine Fondevilla: "Things we lose have a way of coming back to us in the end, if not always in the way we expect." —Harry Potter and the Order of the Phoenix
ADVERTISEMENT - CONTINUE READING BELOW
20. Madeline Fuller Castillo Henry: "You erased me from your memory because you thought you were holding me back from having a full and happy life, but you made a mistake. Being with you is the only way I could have a full and happy life. You're the girl of my dreams and apparently, I'm the man of yours."—50 First Dates
READ: The Last Five Years: 10 Most Beautiful Lines From Anna Kendrick and Jeremy Jordan's Musical Film
What are your favorite lines from the movies you've watched, Candy Girls?