A few days ago, we asked you via our Facebook page which heartbreaking lines from movies are your favorites. We chose 20 from everything you've shared with us and listed them down below! It wasn't an easy job to narrow them down to just 20, but if you want to read the rest of our readers' suggestions, click this link now. Happy reading!
1 Anjellie Kristelle Balatero Paña: "Winning that ticket was the best thing that ever happened to me. It brought me to you. And I'm thankful, Rose. I'm thankful. You must do me this honor. Promise me you will survive, that you will never give up no matter what happens, no matter how hopeless. Promise me now, and never let go of that promise." —Titanic
2 Joyce Alicante: "Yung walong taon namin, tinapos lang nya sa seven words" —That Thing Called Tadhana
3 Ana Galguerra: "People change. Feelings change. It doesn't mean that the love once shared wasn't true or real. It simply means that sometimes when people grow, they grow apart." —(500) Days of Summer
4 Farrah Grace Aton: "I just want you to be happy. Even if that happiness no longer includes me." —The Longest Ride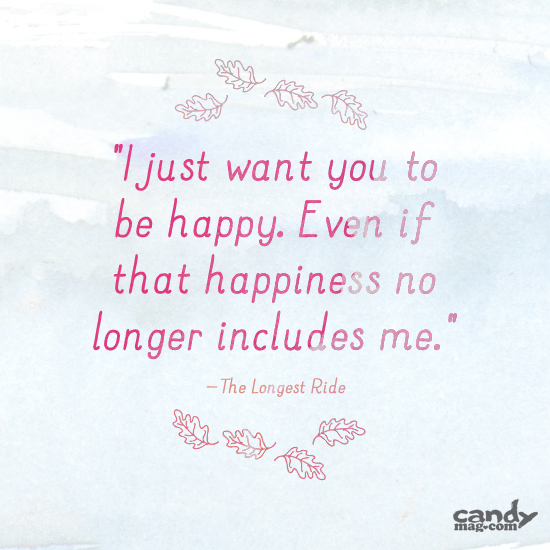 ADVERTISEMENT - CONTINUE READING BELOW
READ: Candy Girls Speak Up: 20 of the Most Beautiful Lines From Songs
5 Bettina Garcia Oriondo: "And just like that, she was gone. Out of my life again. I hope that whatever she was doing made her happy." —Forrest Gump
6 Rochelle Año San Pascual: "You deserve someone who loves you with every single beat of his heart, someone who thinks about you constantly, someone who spends every minute of every day just wondering what you're doing, where you are, who you're with, and if you're okay. You need someone who can help you reach your dreams and protect you from your fears. You need someone who will treat you with respect, love every part of you, especially your flaws. You should be with someone who could make you happy, really happy, dancing on air happy." —Love, Rosie
7 Zel Veluz Beltran: "We didn't break up because we never even started." —No Strings Attached
8 Crystalyn Invierno: "You gave me forever within the numbered days, and I'm grateful." —The Fault In Our Stars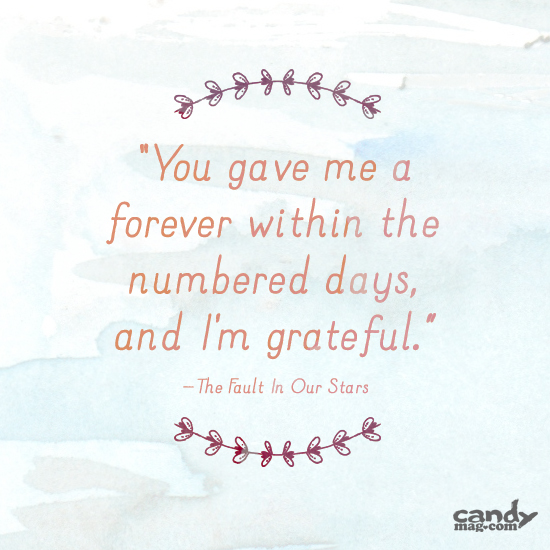 9 Shiiya Ballesteros: "Because waiting for you is like waiting for rain in this drought, useless and disappointing." —A Cinderella Story
10 Mary Rosedy Aligante Detayson: "Take her to the moon for me!" —Inside Out
11 Diane Mallari: "I've been having the dream for months now. Even though I couldn't remember all of it, the part I remembered was always the same. The girl was falling. I was falling. I had to hold on but I couldn't. If I let go, something terrible would happen to her. But that's the thing, I couldn't let go. I couldn't lose her. It was like I was in love with her, even though I didn't know her. Kind of like love before first sight." —Beautiful Creatures
12 Jessica Espina Bernardo: "Tinaas mo ako eh. Napakataas. Ang hirap palang maiwan sa ere." —Crazy Beautiful You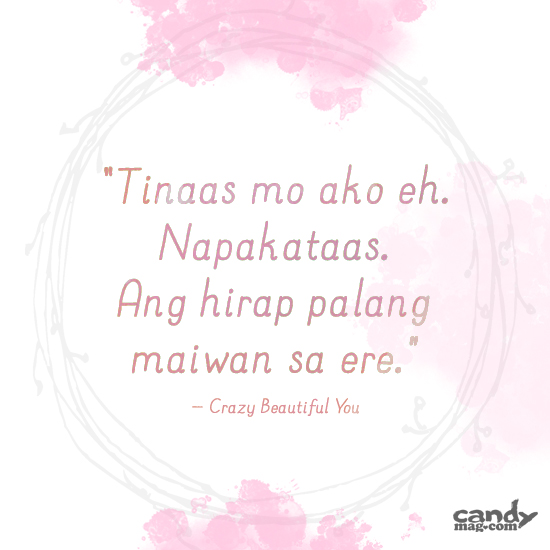 13 Frances Danielle Mercado: "I lost you once. I'm not going to lose you again." —The Best of Me
ADVERTISEMENT - CONTINUE READING BELOW
14 Sett Velarde: "You know what really sucks about falling for a guy you know you're not right for? You fall anyway because you think he might turn out to be different." —Another Cinderella Story
15 Sophia Margaret Sta Maria: "No matter where you are, whether you're a quarter mile away or half way around the world, you'll always be with me. You'll always be my brother." —Fast & Furious 7
16 Shanea UyTaranco Tumog: "I love you but you're not mine." —The Corpse Bride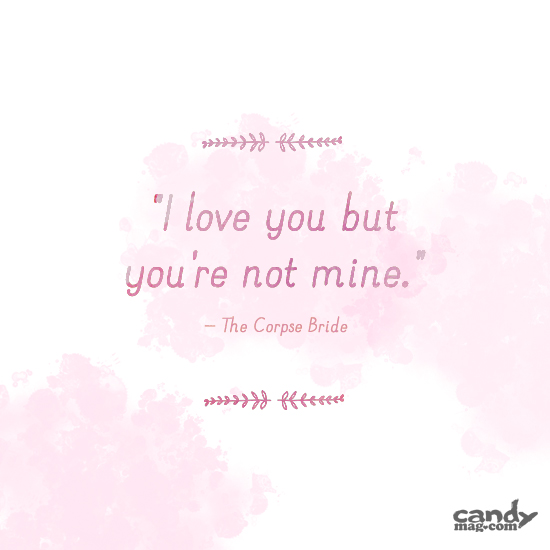 READ: From Our Sister Sites: Forevermore Lines That Will Have You Feeling Feelings
17 Reina Fernandez Mangulabnan: "Life moves pretty fast. If you don't stop and look around once in a while, you could miss it." —Ferris Bueller's Day Off
18 Eunice Jane Eusebio: "If you love me, then why did you stray?" —Into the Woods
19 Ais Garrido: "Always." —Harry Potter & the Deathly Hallows Part 2
20 Jillian Neri: "I see the way you look at him. I know, because you used to look at me that way. How do you look at the girl you love and tell yourself its time to walk away?" —The Vow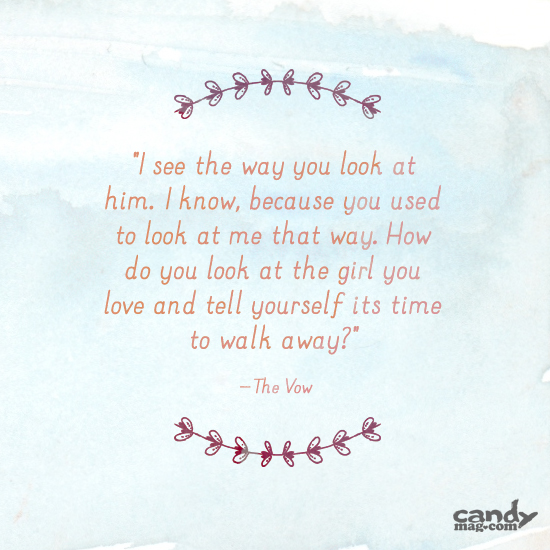 READ: 10 Lines Girls Who've Never Had a Boyfriend Are Tired of Hearing
What are your favorite heartbreaking lines from the movies, Candy Girls? Share them with us in the comments!