All Access
Candy Girls Speak Up: 20 of the Most Beautiful Lines From Songs
Candy Girls speak up and tell us what their favorite song lines are!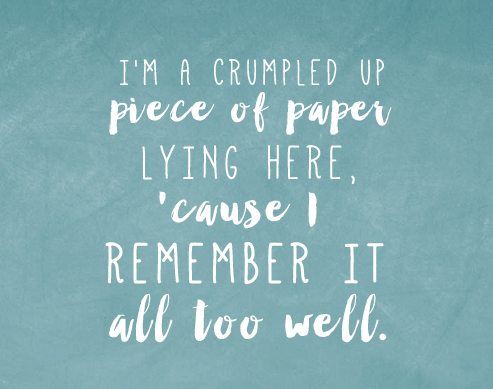 ART Trixie Ison
A few days ago, we asked Candy Girls on Facebook about their favorite lines from songs. We got a lot of your suggestions and it was a really tough job to choose just a few! If you want to see the rest of the Candy Girls' suggestions, you can go here. For now, check out 20 of our favorites.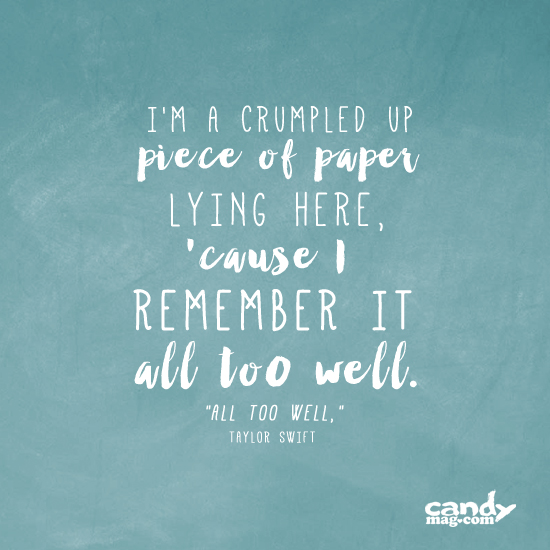 ADVERTISEMENT - CONTINUE READING BELOW
1. Mariel Cayas: "I'm a crumpled up piece of paper lying here." —"All Too Well," Taylor Swift
2. Nick Pigar: "Always remember how lucky you are to have yourself." —The Maine
3. Madz Juan: "If today's the day I die, lay me down under the lights. Let me fall in love, let me save a life. Let me lose my voice, singing all my favorite songs. Let me stare up at the stars, cause it's where they all belong" —"Living Louder," The Cab
CONTINUE READING BELOW
Recommended Videos
4. Sheela Marie: "Someday you will find me, caught beneath the landslide. In a champagne supernova in the sky." —"Champagne Supernova," Oasis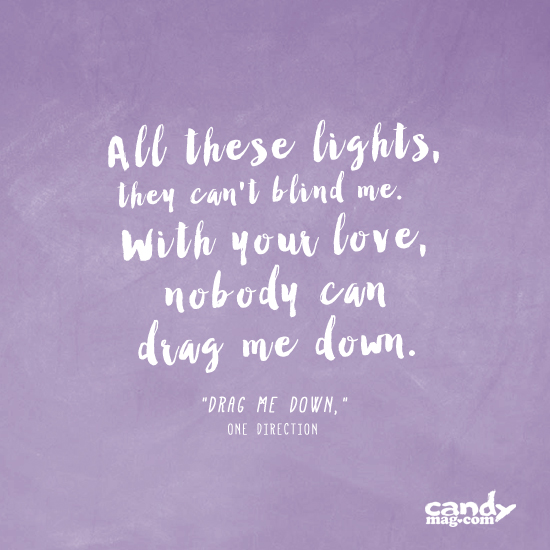 ADVERTISEMENT - CONTINUE READING BELOW
5. Hanah Ahmad: "All these lights, they can't blind me. With your love, nobody can drag me down." —"Drag Me Down," One Direction
6. Resheil Tingga: "I'm still silently, quietly hoping you'll end up with me." —"Stuck," Darren Espanto
7. Quevedo Lee: "I'll keep dancing till the morning with somebody new. Tonight I'm getting over you." —"Kiss,"Carly Rae Jepsen
8. Lynette May Vanguardia Pamunag: "And I don't really care if nobody else believes 'cause I've still got a lot of fight left in me."—"Fight Song," Rachel Platten
9. Kate Anne Reyes Malimban: "It's just you and I tonight. Why don't you figure my heart out?" —"Heart Out," The 1975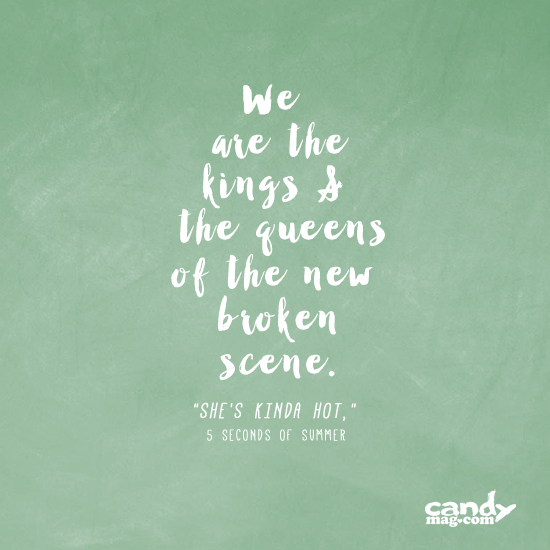 ADVERTISEMENT - CONTINUE READING BELOW
10. Ryneth Escobio: "We are the kings and the queens of the new broken scene." —"She's Kinda Hot," 5 Seconds of Summer
11. Joanna Elaijah Talvo: "Don't you dare let our best memories bring you sorrow. Yesterday I saw a lion kiss a deer. Turn the page maybe we'll find a brand new ending, where we're dancing in our tears." —"Lost Stars." Keira Knightley
12. Katrina Garcia Gutierrez: "We keep this love in a photograph. We made these memories for ourselves. Where our eyes are never closing, hearts are never broken, times forever frozen still." —"Photograph," Ed Sheeran
13. Mikan Hyuuga: "You know, you keep bringing out the best of me. And I need you now even more than the air I breathe. You can make me laugh when I want to cry. This will last forever I just know." —"When You Got a Good Thing," Lady Antebellum
14. Kniah Claire Escondo: "The songs on the radio are okay. But my taste in music is your face." —"Tear In My Heart," twentyonepilots
ADVERTISEMENT - CONTINUE READING BELOW
READ: From Our Sister Sites: Forevermore Lines That Will Have You Feeling Feelings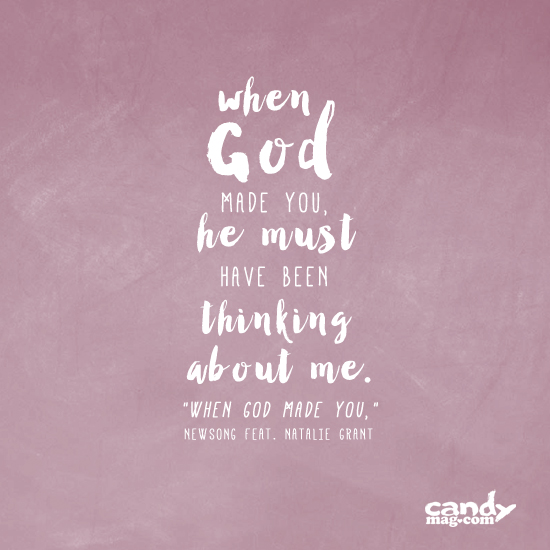 15. Joyce Danielle: "When God made you, He must have been thinking about me." —"When God Made You," Newsong feat. Natalie Grant
16. Ethelou Gellado: "You are my sweetest downfall. I loved you first. I loved you first." —"Samson," Regina Spektor
ADVERTISEMENT - CONTINUE READING BELOW
17. Ryneth Escobio: "And baby when you fall down, I fall too. And if you get lost, then I'll get lost with you. And when the waves crash down, then baby I won't move." —"Strings," Shawn Mendes
18. Carla Luu: "It's her hair and her eyes today that just simply take me away. And the feeling that I'm falling further in love makes me shiver, but in a good way." —"Out of My League," Stephen Speaks
19. Anna Davao: ''Maybe the reason why all the doors are closed, so you could open one that leads you to the perfect road." —"Firework," Katy Perry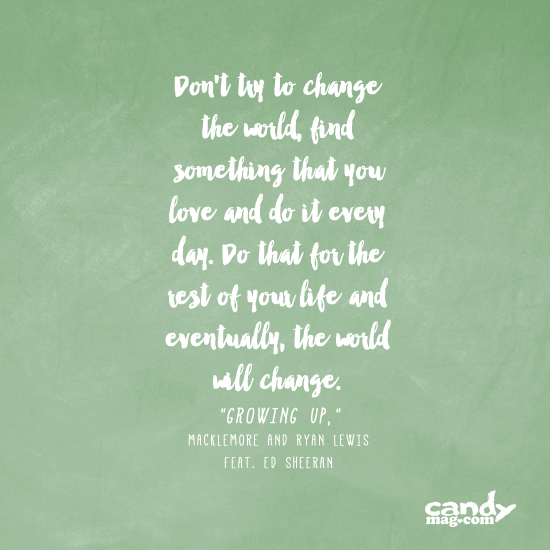 ADVERTISEMENT - CONTINUE READING BELOW
20. Cassandra Selina Serraon: "Don't try to change the world, find something that you love and do it every day. Do that for the rest of your life, and eventually, the world will change." —"Growing Up," Macklemore and Ryan Lewis feat. Ed Sheeran
READ: 10 Lines Girls Who've Never Had a Boyfriend Are Tired of Hearing
What are your favorite song lines, Candy Girls? Do let us know in the comments! :)
Yup, a million girls would really kill for this job.
They have unique beverages you won't see in most coffee shops.
These organizations strive to raise awareness and initiate change in their various advocacies.
We love the cartoony details!
Here's the story behind FASH.
Time to unwind with 1/2 of the Gaya sa Pelikula love team.
Everyone has gone digital.
She's playing the role of Star Vixen!
I didn't know I needed this until it came out...
They share tips and stories of their ups and downs to motivate you throughout the process.
Bookmark these fashion formulas to make the most of your one-piece swimsuits all year round!
From The Candy Bulletin Community