All Access
18 Things We Learned at the MTV Movie Awards
How to remember your password like Andrew Garfield, how to score a kiss with Zac Efron, and more.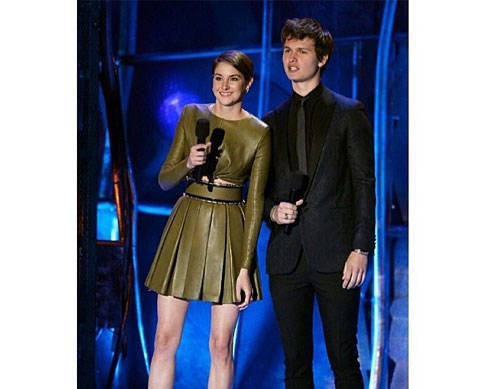 PHOTOS MTV
It pays to watch the red carpet pre-show. Ohaiii, The Fault in Our Stars teaser! Ohaiii, cigarette metaphor! Ohaiii, Ansel!

Puppy cams are way better than mani cams.

CONTINUE READING BELOW

Recommended Videos

ADVERTISEMENT - CONTINUE READING BELOW

Don't tell Conan O'Brien what he can and cannot do. Dare him to get 50 cameos? No sweat.

ADVERTISEMENT - CONTINUE READING BELOW

Lupita Nyong'o is funny. "A year ago, nobody even knew my name. Now, nobody can pronounce my name."

If you're going to present an award, wear your contacts (hello, Amanda Seyfried!) or prescription glasses like Lupita.

Jared Leto gets your #foreveralone feels. "Anybody here headed to Coachella? 'Cause I need a ride back to the desert. If you are, I have an extra ticket. I can pitch in gas money, and I've got a little extra room in my tent. I'm a great snuggler. Rihanna? Shailene? Channing? No one? Okay."

ADVERTISEMENT - CONTINUE READING BELOW

Rita Ora is right: Jessica Alba does have the most valuable physique.

Rita Ora scores again: The world will forever be thankful for this humanitarian act.

Based on the teasers, we're going to need a support system to handle all the craziness of X-Men: Days of Future Past and The Amazing Spider-Man 2.

ADVERTISEMENT - CONTINUE READING BELOW

As long as Channing Tatum and Jenna Dewan-Tatum are together, true love exists.

Only your best friends can talk smack about you.


via cosmopolitanmagazine.tumblr.com

ADVERTISEMENT - CONTINUE READING BELOW

Maybe that golden ticket was planted, maybe not. All I know is that Zac Efron is willing to kiss a stranger for the greater good. There's hope, you guys!

There's such a thing as too much fog. Poor Aaron.

via fairchildss.tumblr.com

The next time you forget your password, try this trick.

via mr-styles.tumblr.com

ADVERTISEMENT - CONTINUE READING BELOW
Catch replays of the MTV Movie Awards on MTV Pinoy on April 18 at 9pm, April 19 at 2pm, and April 20 at 7pm.
Perfect for a relaxing afternoon getaway!
Here are a few pegs to start you off.
Plus other things to know about the PBB alum.
Meet Gabby Banaag, an 18-year-old student and founder of a tech organization.
Including the labor fee, landscape, and all the furniture inside.
"I think I just want to show people na hindi ko na pinapalampas yung mga bagay na ganito," Julia shares.
Celebs have decided to use their platforms to open up about their own mental health.
This 16-year-old's net worth will leave you speechless.
Slough off dirt and even out your tone in two to three easy steps.
Aside from the overall rankings, THE also provides rankings by subject.
From The Candy Bulletin Community