The other day, a friend who follows me on GetGlue asked me if I really watch all those shows I log in to. Yes, I do, but if there's one thing I can't stand, it's anything horror. Last week, though, I braved watching the Pretty Little Liars Halloween special and Ravenswood premiere on ETC. Of course I can't miss a double dose of Caleb! Some thoughts: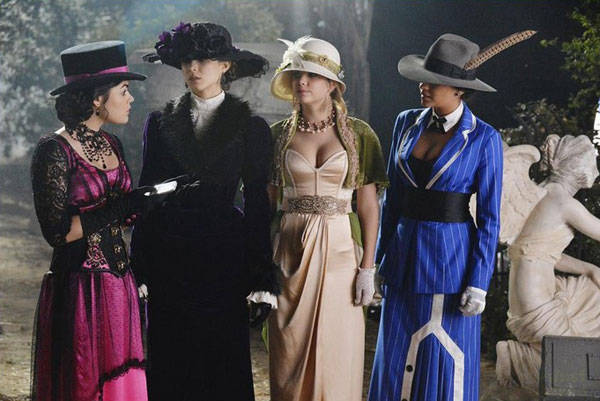 ADVERTISEMENT - CONTINUE READING BELOW
Quick survey: whose costume did you like best? I liked Aria's the most.
Caleb's new friend Miranda is Catherine's sister on Beauty and the Beast!
The words HELP ME in what looks like blood is never a good sign.
The creepy statues remind me so much of the Weeping Angels on Doctor Who. Quick background: you have to keep your eye on a Weeping Angel at all times—blink and it attacks. Might not sound like the worst baddies in the world, but the thing is, they don't kill people. They send their victims to some random period in time, which makes them as good as dead to their loved ones. Deep stuff.
Hi, my name is Spencer and I kick ass.
So Miranda has a gravestone with her face on it, and so does Caleb. Are they ghosts? Or are they doppelgängers??? Ravenswood's IMDb does say that it's about "five strangers who are connected by the curse that has plagued Ravenswood for generations." You've got some company, Stefan and Elena!
This is Hanna asking for help: "Why am I doing this alone?" Gotta love her.
No, EzrA, showing up out of the blue isn't creepy at all.


Alison's alive! P.S. For someone who's trying to keep a low profile, wearing a red coat all the time probably isn't the best idea.
So funny how it's Beauty and the Beast right after, and there's Miranda as Catherine's sister. Oh look, she has a job offer in Miami a.k.a. Ravenswood.
Hello again, Caleb! Oooh, the new guy is cute, too.
Gravestones with pictures of the dead, library-ish morgues, funeral homes—so much death in this town.
Ravenswood might have death in the air, but the humidity is just right for good hair days.
Give me zombies and vampires any day, but my system just can't take ghosts and unseen entities!
Uh-oh, someone slushied the queen bee.
No, Miranda, you and Caleb are definitely not making that bus. Please stop asking.
Naks, The Civil Wars. "The One That Got Away" is a pretty decent song to die to. I kiddd, of course the five lead stars will survive the car crash!
ADVERTISEMENT - CONTINUE READING BELOW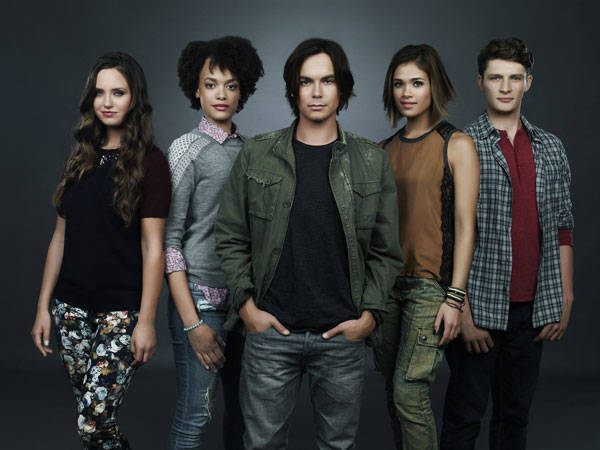 What did YOU think of the two shows?