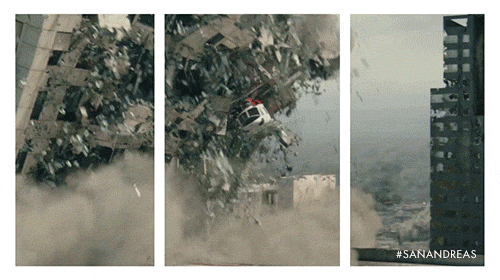 via sanandreasmovie.tumblr.com
1 Am I seriously going to watch San Andreas, a movie about the biggest earthquake recorded in fictional history, all by myself? In freaking 4D? Right after drinking coffee? Oh, my friends are here too, yay! At least I'll have people to freak out with.
2 The movie opens with a cute girl blasting Taylor Swift in her car, texting while driving... This isn't going to end well, is it? Of course it doesn't, not because she was texting while driving (though this is not okay at any level—no text is worth it!), but because the earth shook very violently.
3 If I ever need to be rescued, The Rock is just the person I'd want to see. Oh hey, that's Colton Haynes from Arrow and Teen Wolf! This rescue team is the best.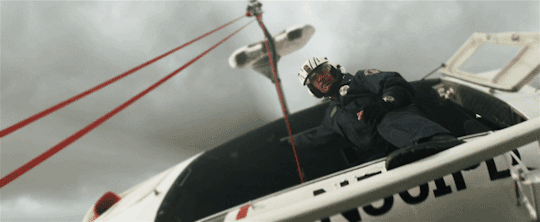 via sanandreasmovie.tumblr.com
ADVERTISEMENT - CONTINUE READING BELOW
4 That rescue mission was just 10 minutes? The motion seats and wind and mist effects made it last forever! Dear Lorde, what have I gotten myself into?
5 Alexandra Daddario, The Rock's daughter here, really has the prettiest blue eyes. And who does she bump into at her soon-to-be stepdad's office? Two cute British brothers: one old enough to be embarrassed by his crush on her, and one young enough to blatantly tease his Kuya about it.

via kane52630.tumblr.com
6 The poop hits the fan just as The Rock calls his ex-wife while she's having lunch with her new fiancé's sister—played by Kylie Minogue! Kylie isn't the nicest person in the world here, but couldn't they have at least called out for her when she literally opened a door into the abyss?
7 I just realized how hopelessly unprepared I am in case of an earthquake. I can't go under my rickety dining table so I hope the triangle of life really works.
8 Mental note: When cell services go down, look for a rotary phone and a landline.
9 Another mental note: Fire trucks have a supply kit. If you find an abandoned truck, grab the kit.
10 Not worth noting (because hello, it's basic decency!): Do not leave your soon-to-be stepdaughter trapped in a car on the basement of a building that the earth is swallowing whole. And do not force people out of their makeshift safe zones so you can take their place. This dude wins Worst Human Being Ever.
11 These effects, you guys—so much love went into this. The effects team must be the biggest army ever. Every one of them deserves a hug and a cookie.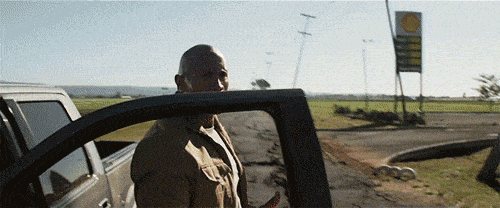 via darahanjing.tumblr.com
12 So to survive a natural calamity, you should know how to drive a car and a speedboat, and fly a helicopter and a tiny plane. Life skills, y'all.
13 In all seriousness, you've got to give it to blind optimism. This family and their newfound friends go through hell just to find each other even if they have no way of knowing whether or not the other is still alive. (I mean, I can't take it when I'm supposed to meet someone and they're late and they don't reply immediately.) How many lives have been saved by this unquantifiable human ability?
ADVERTISEMENT - CONTINUE READING BELOW
14 Reunited and it feels so good!
15 Of course Alexandra Daddario finds love in a natural calamity. They literally saved each other—if that's not true love at first sight, we don't know what is.
San Andreas is now showing.