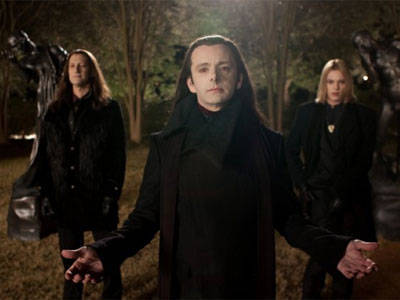 Sparks Fly… Literally
They say that when two people are heavily attracted to and aligned with each other, everything is perfect, the sun is bright, the birds chirp and sparks fly. I didn't know they meant actual flying sparks though! During Edward and Bella's moment at their new home, as desire and pleasure fused, the screen becomes filled with red, bursting lights. WOAH. I guess we shouldn't be too surprised about this. After all, BD falls under the romance + fantasy category, so anything goes. Maybe it's a vampire thing?
ADVERTISEMENT - CONTINUE READING BELOW
Wolves are like Fluffy Clouds in Disguise
Twilight werewolves are supposed to be beyond vicious. With their razor sharp teeth and their super strength, they can tear your limbs in a heartbeat. That's only one way of looking at them though. If you look closely enough, you'd get to see that they resemble adorable, fluffy clouds, just with shades of black, brown and grey. I'm sure girls everywhere are just jealous of Renesmee right now. She gets a guy like Jacob as a protector, who can both be her wolf in shining armor and cuddly stuffed animal. Two in one!
Aro's High-Pitched Laugh
There are a lot of peculiar things about Aro. He's super old. He lives underground. Every line he delivers seems like something a narrator would say in a story-telling event. However, there is nothing more eerie than the high-pitched laugh he made when he met Renesmee. I don't know about you, but it gave me the chills. I actually wish I could erase the thought of it from my mind, but alas, I am only human. Where are supernatural powers when you need them anyway?
ADVERTISEMENT - CONTINUE READING BELOW
>