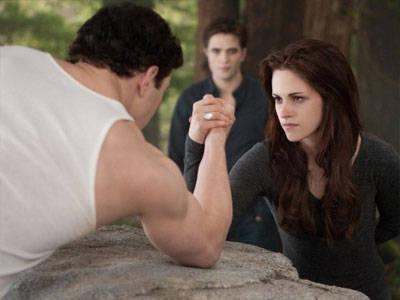 The Battle Scene (Well, Sort of)
Let's face it—the whole Twilight Saga is not really action-oriented. It may be sufficient for the books to just focus on conversations and plot developments, but for the films to engage a wider audience, they have to have their minor fight scenes and all-out brawls. The battle scene for Part 2 is reminiscent of the one from Eclipse, except that this time around it's more explosive, the stakes are higher and it's... well... imaginary.
ADVERTISEMENT - CONTINUE READING BELOW
Wait, WHAT?!
Yes, that's right. The climax of the Part 2 happened inside a Volturi's mind, and the sighs and yahoos of the audience were indication enough that everyone was fooled. Those who read the books were bound to be more confused though; my seatmate who followed the series whispered to me, "That didn't happen" twice and laughed really hard and lost it when the trick was finally revealed.
Well-played, Breaking Dawn Part 2! Well-played indeed.
Beheading Party, Everyone!
Sure, there were plenty of cheesy, romantic sequences in the movie but they cannot hold a candle to the number of flying vampire heads. If I had known there were to be so many, I would have started counting right at the start. Decapitation here, decapitation there, decapitation everywhere! Fortunately, blood does not splatter when a vampire expires, or else the film would have probably earned a fat R-rating, prohibiting younger die-hard fans from joining the party.
ADVERTISEMENT - CONTINUE READING BELOW
Imprinting is Still Creepy
I've tackled this the last time but I want to tackle it again: The concept of imprinting, by itself, is a little creepy, and the fact that Jacob imprints on a baby/child makes it a lot worse. Yes, yes, I know that the last part of the film told us that it takes only seven years for a creature like Renesmee to become full-grown, and Alice's vision had Edward, Bella, Jacob, and an adult Renesmee going on a double date by the beach, but still. There's a reason why weird things stay weird.
>