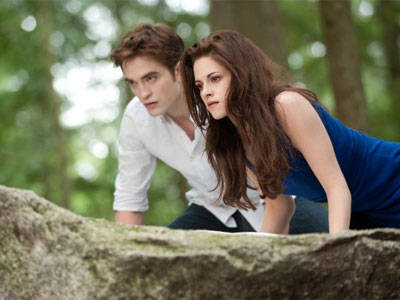 Badass Bella, At Long Last
There's Team Edward, there's Team Jacob, but I don't think I've ever heard of a Team Bella. Even fans of the book and the movies are not fond of the way that she has to be a damsel in distress all the time, but Part 2 makes an effort to change that notion. For this one, she becomes a vampire, a disciplined newborn (except for the part that she almost gobbles up a poor mountain climber), hunts predators for breakfast and beats Emmett in an arm-wrestling match (I'm sure Emmett fans everywhere were not very pleased with that though). Oh, and let's not forget her shield that looks like an air wave? Seriously, I can't really tell what it is! Can you?
ADVERTISEMENT - CONTINUE READING BELOW
Renesmee as an Afterthought
At the end of BD Part 1, baby Renesmee is born, while Bella dies for a bit (yes, just for a bit) and begins her transformation to a vampire shortly after. Let us fast forward to BD Part 2's opening scene. Bella adjusts her senses to the world and realizes they're all magnified now. She multitasks by dealing with all of this physical change while having an intimate moment with the love of her life, Edward. This goes on for quite some time before she realizes that her baby, supposedly her pride and joy, is nowhere to be found. Talk about needing some maternal training. Tsk tsk.
R.I.P. Love Triangle – Good Riddance?
Ever since New Moon, the rivalry of Edward and Jacob over Bella has been central to the series. For BD Part 2, we are treated to a different type of conflict. Renesmee and the Volturi threat take center stage, and the film additionally focuses on the assembly of the different vampire covens friendly to the Cullens. I personally find this development refreshing, and although it takes out the famous love triangle struggle that drew in countless of fans worldwide, it is just fitting that the characters are given the chance to mature, grow and move on from this recurring teenage, emotional baggage. Like this article if you agree!
ADVERTISEMENT - CONTINUE READING BELOW
>