What's your all-time-high moment in Manila?

Rian Dawson: I would have to say the autograph signing. We went to a mall that's four storeys high, and every single balcony or railing was filled with fans. Probably one of the loudest things we've ever heard.

Alex Gaskarth: Yeah, that was pretty mind-blowing… Based on what we've read online, we expected that it was going to be amazing but to actually see it… (Zack Merrick plays a phone recording of the fans screaming.) You really have no idea how awesome that moment was... Just the amount of people that were there was mind-blowing. It was very cool and very flattering to see that kind of passion.

Rian: There were people at the signing who said they'd been waiting for five or six years for us to come here. We were generally just starting (five or six years ago). We all started crying afterwards in the dressing room.

What can you say about how popular the band has become?

Rian: It's tough to even put it into words, to be honest. We started it and we're still doing it just for fun… So to have people say that they're overwhelmed or those lyrics saved their lives or helped them get through a really bad part of their life, it goes way beyond anything we've ever imagined.

Alex: It's something that we're still kind of getting used to… It's a really good feeling; it makes us feel that we're doing something right.

What did you think would happen to the band when you were just starting?

Jack: I don't think our vision really left our hometown (Baltimore, Maryland).

Alex: It really started as something to do. We never knew it would or expected it to go anywhere.
ADVERTISEMENT - CONTINUE READING BELOW
ADVERTISEMENT - CONTINUE READING BELOW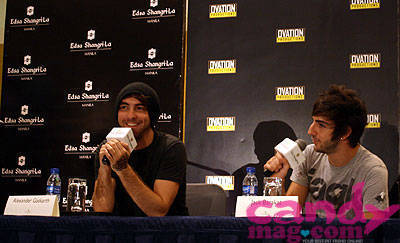 ADVERTISEMENT - CONTINUE READING BELOW