All Access
15 Awkward Moments from Blended
You'll totally relate to these embarrassing moments from the new comedy starring Adam Sandler, Drew Barrymore, and Bella Thorne.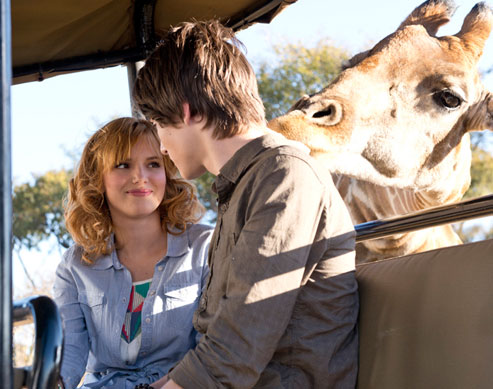 PHOTOS Warner Bros. Pictures, GIFs via Tumblr and Giphy
When people mistake you for a boy all. The. Time.

[table:0]

When people mistake you for a boy... even off camera. Poor Bella Thorne!

[table:1]

When you get caught staring at your crush.

[table:2]

When you're kicking butt on the court and then your crush pops by, making you do... whatever this is.

[table:3]

When you're drowning in a puddle of insecurity in the safety of your own bathroom and your dad just makes it worse.

[table:4]

When you go parasailing to prove something to someone, and he literally leaves you hanging…

...And when karma strikes back.

When you're out on a first date and you eat something so spicy that you just have to spit it out.

When your dad names you Espn after his favorite channel.

When you misread a situation so badly, scarring kids for life.

[table:5]

When a Greek chorus of African performers follows you around.

When a giraffe interrupts your first kiss.

When you're going for pretty, but your dad makes you look... edgy.

When you mean well, but end up bumping a little kid's head on everything within a 12-inch radius and most likely giving him a concussion.

When someone wants to sit next to you, but the seat's already taken by your invisible friend.


via giphy.com
Blended is now showing in cinemas.
You favorite childhood sweet is now in cupcake form!
Will your friendship survive the wrath of thesis?
Here are a few things that might help.
Fast cars and dark roads don't mix.
BTS' agency already made the official announcement.
The deep red lipstick shade flatters all skin tones!
The 19-year-old dancer also appeared in the music video and on Jimmy Fallon's show along with her dance crew The Lab!
This is straight out of a teleserye!
It'll be available in five cute colors!