All Access
13 Questions About The Vampire Diaries Season Finale
...other than Whuuut?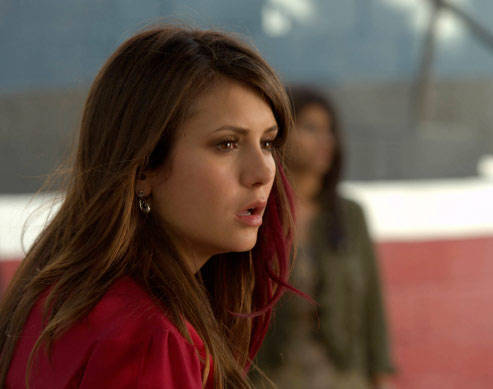 PHOTO The CW
Whose brilliant idea was it to play "You Give Love a Bad Name" during the opening credits? Good job.
"I should be upstairs grooming my hero hair." Snarky!Stefan is the best, isn't he?
Does anyone else think two Bonnie Bennetts is just a tad too much?
Elena is only 18 in hoomin years? Makes sense, but I feel like she's been around for centuries, not counting Katherine's time.
Between returning vampire hunters Alexander and Connor, the undead sure love their explosives, don't they?
Human!Elena has straight hair, Katherine's got voluminous curls, bad vampire!Elena has pink streaks, and reformed vampire!Elena has artfully wispy tips. Useful guide is useful. I wonder, what'll human!Katherine's hair look like?
Wait, the sire bond's gone even though Elena has feelings again? Not complaining, I'm just happy that Elena and Damon are finally legit together!
Does Matt really have to hold on to Rebekah after that bomb scare? Uy, style. I approve!
Was that Alaric super-speeding? For a second there, I thought he died as a vampire, but yeah, there was that enhanced Original thing.
"He's your first love. I intend to be your last… no matter how long it takes." Yihee!!!!! Does this mean Caroline could follow Klaus to The Originals? Because that would be amazing.
When Matt told Rebekah that he wants to keep his love life a low-vampire zone, did anyone else scream at the TV, "LOW-, not NO-vampire zone, gurl!"
Holy last 10 minutes—what is this, the series finale?
Can it be season five already?
For instance, UP MBS welcomes students from any university, college graduates, and even professionals!
From the master crammer to the sleeping beauty.
Do you thrive on working late nights and dread waking up early to get to school?
The student-artist talks about how he got started on portraiture and food art, his most memorable piece, and his advice to fellow student-artists.
For the third time, University of Sto. Tomas ranked first in an independent survey on the best psychology schools in the country.
"Psychology major ka? Sige nga, can you read my mind?"
Before you commit to your first ink, you might want to consider these things first.
Truth is, there's a chance your college major won't be entirely related to your career path.
There are some things we wish we would've done differently in high school.
It's in the world's natural order for people to make blunders and fail, so don't be too hard on yourself when things don't go your way.