Baka Bukas (now showing)
If you missed this crowd favorite during the Cinema One Originals Festival last year, here's your chance to watch it. Starring Jasmine Curtis-Smith and Louise delos Reyes, this movie is about a girl who falls in love with her best friend, who happens to be a girl. Expect a lot of feels and realness.
Logan (now showing)
Show your favorite mutant some love as Hugh Jackman plays Wolverine one last time, in a new, scary, mostly mutant-free world.
T2: Trainspotting (now showing)
Reunions with old friends are never easy—especially if the last time you saw them, a bag full of cash that belonged to the whole squad went missing. This sequel to the 1996 film stars Ewan McGregor from Moulin Rouge and Jonny Lee Miller from Elementary.
A Dog's Purpose (now showing)
Who says only cats have nine lives? With every reincarnation, one devoted dog brings joy and love to the families he lives with. As if a bunch of dogs isn't adorable enough, KJ Apa a.k.a. Archie from the Riverdale series also stars in this movie!
ADVERTISEMENT - CONTINUE READING BELOW
The Shack (now showing)
Octavia Spencer plays God in this movie based on the bestselling novel—that's really all we need to know to convince us to watch it.
Cinema Classics (March 1 to 7)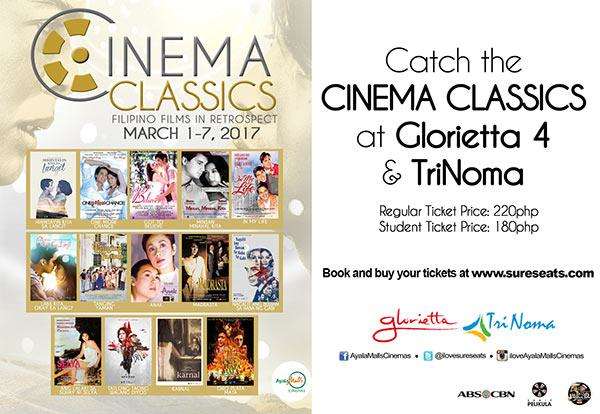 Let your Filipino film education begin with the second wave of Cinema Classics showing exclusively at Glorietta and Trinoma. Catch iconic films digitalized for the big screen such as Hihintayin Kita sa Langit, One More Chance, Madrasta, Anak, Oro Plata Mata, and more for a discounted student price of P180 per ticket.
Before I Fall (March 8)
Ever wish you could rewind time and do better? Sam (played by Zoey Deutch) gets stuck in a time loop on her last day on earth, giving her a few chances to make things right.
Kong: Skull Island (March 9)
Tom Hiddleston knows places where we can hide...from everyone except the mythic Kong.
Death Note: Light Up the New World (March 15)
The next installment in the manga series adaptation takes place 10 years later, with the newly reinstated Death Note Task Force trying to stop the six new notebooks from wreaking havoc in the mortal world.
Beauty and the Beast (March 16)
New and a bit alarming, who'd have ever thought that we could finally see the live-action adaptation of the Disney classic? Feels like we've been waiting forever for Emma Watson's new movie!
Power Rangers (March 22)
It's morphin' time! Root for your favorite Rangers as the iconic superhero series gets another shot at the big screen.
ADVERTISEMENT - CONTINUE READING BELOW
Life (March 24)
Life, the scary, alien kind.
Ghost in the Shell (March 29)
Is it manga movie month or what? Not that we're complaining! Starring Scarlett Johansson, this adaptation of the popular Japanese title promises a visual feast and tons of butt-kicking action.
Which one are you excited to see on the big screen?