UN Goodwill Ambassador and real-life Belle Emma Watson just had a He for She Conversation about gender equality streamed live on Facebook earlier today in time for the celebration of International Women's Day. And in case you weren't able to catch it, here are 13 inspiring lines from the gathering that we should all live by and take to heart.
1 On supporting each other. "A lot of the criticisms I've had in my life and some of the hardest moments I've had were from other women. It's not just enough for men to come and support us. We have to support each other. We really do."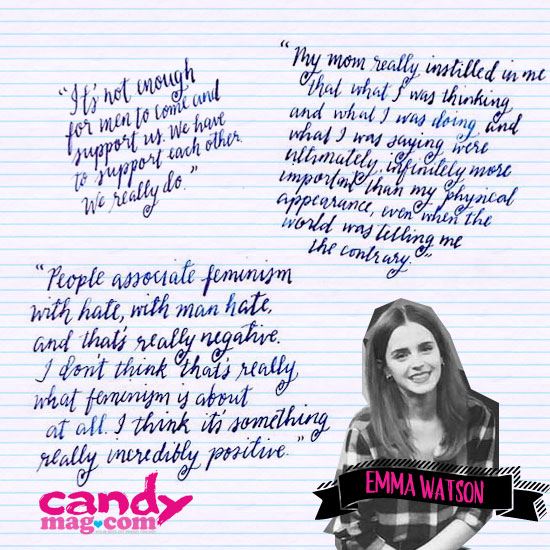 ADVERTISEMENT - CONTINUE READING BELOW
2 On the meaning of the word "feminism." "People associate [feminism] with hate, with man hate, and that's really negative. I don't think that's really what feminism is about at all. I think it's something really incredibly positive. So I think that's why women became really reluctant to use that word. But I think that's changing, which is really cool. I'm aware of more male feminists now than I was before and that's really heartening. People have come back to what the actually definition really means."
3 On her role model and what she's taught her. "The obvious choice is my own mom. She was a single working mother. She was a type one diabetic. Seeing her strength and resilience was really inspiring growing up and she instilled in me. Particularly during my teenage years when I was feeling very insecure and confused about what my purpose was. She really instilled in me that what I was thinking and what I was doing and what I was saying were ultimately, infinitely more important than my physical appearance even when the world was telling me the contrary.
ADVERTISEMENT - CONTINUE READING BELOW
READ: He's the Beast to Emma Watson's Belle in the Live-Action Re-Telling of Beauty and the Beast
4 On why gender equality is an urgent concern. "I think it starts young. It starts really young with girls and boys being told what they have to be. It can just be really damaging... Just encourage and include each other. Don't ostracize each other. Just have an open mind. Don't have expectations based on gender."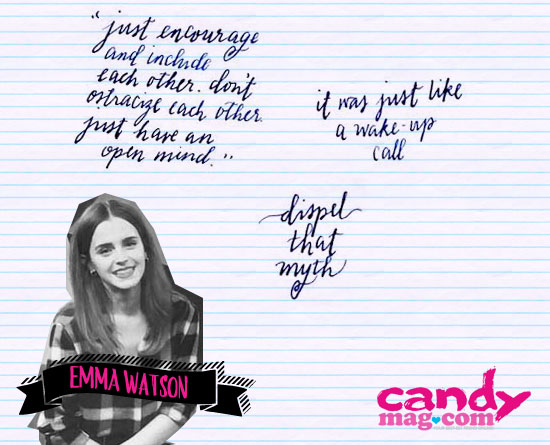 ADVERTISEMENT - CONTINUE READING BELOW
5 On disregarding myths and studies about gender expectations. "This morning, there was a BBC report that was about the fact that in Math and Science and Engineering and in all of these other subjects, girls aren't just doing as well. The biggest reason they say for that is that these are generally associated to be male subjects. And women and young girls feel that if they did those subjects, they will be inherently less attractive... Dispel that myth! It doesn't need to be like that."
6 On the reactions she got after her #HeForShe speech. "After that speech I gave last December. There was a website threatening to release naked photos of me. I knew it was a hoax. The pictures didn't exist. A lot of people that were close to me knew that gender equality was an issue, but they didn't really think that it was that urgent or particularly because we live in Great Britain and this was a thing of the past. 'We're fine, aren't we? We're good.' And then when they saw that the minute I stepped up and talked about women's rights, I was immediately threatened. Within less than twelve hours I was receiving threats. I think they were really shocked. It was just like a wake-up call of like, 'Oh, this is a real thing. It's really happening now.' Women are receiving threats in all different forms."
ADVERTISEMENT - CONTINUE READING BELOW
READ: Emma Watson Delivers Another Speech on Gender Equality at the World Economic Forum
7 On her response to people who reacted negatively to her speech and the #HeForShe campaign. "If anything, it made me so much more determined. I was just raging. It made me so angry that I was like, 'This is why I have to be doing this!' Actually if they were trying to put me off, they did the opposite."
8 On the idea that men can't show emotions. "I'm really genuinely disturbed by this idea that men can't cry and they can't express themselves. They can't talk about how they actually feel. That's actually the saddest thing in the world. It's what makes you human. Like how you feel, being able to express yourself, being passionate, being emotional—it's what makes you human. It's not what makes you a girl, it's what makes you human. If you've got a beating heart and you care about things, that's great. That's so good."
ADVERTISEMENT - CONTINUE READING BELOW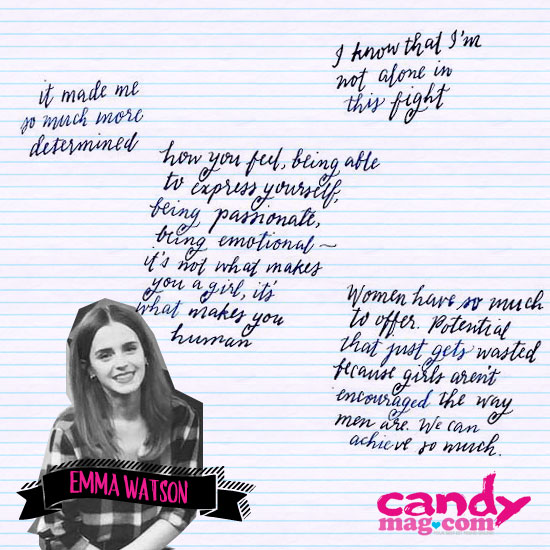 9 On the nasty comments she got about how women should be in the kitchen. "I know that I'm not alone in this fight, that it's an education problem. And that in the not too distant future, I really hope that most people will be horrified by a comment like that. As opposed to being mildly irked. It still does upset me, and it's good that it upsets me. It should. But I know the difference between knowing when someone wants a meaningful dialogue about gender equality and when someone just wants to get a rise out of you."
ADVERTISEMENT - CONTINUE READING BELOW
10 On the situation in other countries wherein girls aren't encouraged to go to school. "First of all, if someone told me that my brother could go to school and I couldn't because I was a girl, I'll be so hurt and so baffled. Why? The fact that this is still going on in the world over is something that really needs to be addressed. But I guess I'd just say, how and why are you not realizing the potential of that girl? Why are you not recognizing what she can bring to the table? We need yin and yang, we need more balance. We need more representation. We need more leadership. Women have so much to offer... [Potential] that just gets wasted because girls aren't encouraged the way men are. We can achieve so much."
READ: Logan Lerman, Joseph Gordon-Levitt, Douglas Booth, and More Celebs Support the #HeForShe Campaign
11 On being who you want to be. "Don't let anyone tell you what you can or cannot do, or what you can or cannot achieve. Be whatever you want to be."
ADVERTISEMENT - CONTINUE READING BELOW
12 On supporting femininity in all its forms and in all the places where it's found. "#HeForShe is about men coming in to support women and femininity and feminine qualities, because they are currently valued less by our society. Feminine qualities are generally valued less. I think femininity needs to be embraced wherever it's found—whether we find it in a man, whether we find it in a woman, whether it be found in a gender non-conforming person. Wherever it's found, we need to be embracing it."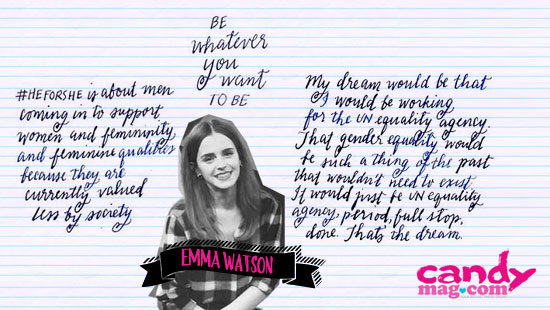 ADVERTISEMENT - CONTINUE READING BELOW
13 On her dream. "My dream would that I would be working for the UN equality agency. That gender equality would be such a thing of the past that that wouldn't need to exist. It would just be UN equality agency, period, full stop, done. That's the dream."
READ: ICYMI: 15-Year-Old Boy Writes Letter About Emma Watson's Speech
Which lines from Emma's Facebook conversation inspired you most? Share them with us in the comments or tweet us @candymagdotcom. :)