All Access
12 Things We Learned At Comic-Con 2014
Straight from the stars of The Vampire Diaries, Teen Wolf, and more.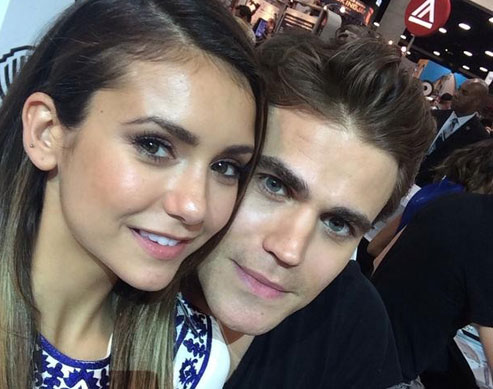 PHOTO Instagram (@ninadobrev), GIFs via Tumblr
Ian Somerhalder and Kat Graham are just as dumbfounded as we are at how The Vampire Diaries ended last season. "I've been killed off on a TV show before and this is not how they do it." Watch the hilarious meta video below! Oh, and somebody give Candice a sandwich.

That TVD and The Originals crossover you're hoping for? It miiight happen. Showrunner Julie Plec says, "Creatively, it's just got to feel like it exists only and solely in the universe of The Originals (and) the story could not be told without that element." Getting everyone together would be "a freakin' nightmare," she adds. In the meantime, we have this trailer of The Originals season two.

It's official: Stiles and Malia have taken things to the next level. The cast of Teen Wolf have always been great interviewees, and this Q&A is candid and awkward and all sorts of fun. It'll make you cringe and laugh out loud, but here's a warning: some of the questions are a little racy!

The plague hits the French court of Reign as Lola gives birth to Francis's baby. In other news, Toby Regbo has the perfect answer to "If you could go back in time, what would you take with you?" Answer: antibiotics.

Can you believe that it's Daniel Radcliffe and Benedict Cumberbatch's first time at Comic-Con despite being fandom favorites? Because it is. Dan promoted his new movie Horns, while Benedict was there for The Penguins of Madagascar and The Hobbit: The Battle of the Five Armies, although he's rumored to have been casted as Marvel's Doctor Strange. Dan actually turned 25 a few days before Comic-Con so the entire hall sang happy birthday to him.

If you ever get the chance to go to Comic-Con, pay attention to the people around you because that cosplaying dude might just be your favorite actor. More and more celebs are embracing the anonymity that comes with putting on a mask and walking around Comic-Con to enjoy the geek-dom as a fan. Here's Maisie Williams from Game of Thrones strolling around the Comic-Con floor incognito.

Trick or treat! Arrow has so much in store for fans, we seriously cannot wait. Brandon Routh from Superman Returns is the new guy, Ra's al Ghul is the new big bad, Thea will most likely be a baby bad, Hong Kong is the new island, and Oliver and Felicity go on an actual date, which maybe ends up with a bloody Felicity on the table? What??? Watch the video and check out Ra's al Ghul's A+ accessorizing.

There will be a two-hour crossover episode of The Flash and Arrow, and Felicity will head to Central City a few episodes before. So I guess she'll be fine despite all that blood?

Anyone who ever doubted Gal Gadot as the new Wonder Woman was rendered speechless by this stunning shot.

[blockquote:0]

Those online quizzes that are a total time suck? Celebs aren't immune to them. Natalie Dormer, who plays Margaery on Game of Thrones and Cressida in Mockingjay Part 1, says she took a "Which GOT Character Are You?" quiz and got Arya!

[table:0]

It was actually on the set of The Big Bang Theory that the actors who played Princess Leia and Darth Vader met for the first time. James Earl Jones was the voice of Darth Vader, who was revealed to be (uh, spoiler alert?) Leia and Luke's father in the Star Wars series. When he and Carrie Fisher finally met, the first thing she reportedly said was, "Dad!" Here are the highlights from that episode.

Saving the world requires a lot of laughter and dancing. Agents of S.H.I.E.L.D. released this hilarious blooper reel at Comic-Con.
What were your favorite Comic-Con moments? Leave a comment below or tweet us @candymagdotcom!
While there is still a long way to go, it's become so much easier to find like-minded people who share the same cause.
It's a game for those who love to play around and break the rules.
Truth is, you don't need to spend a lot to achieve the feed of your dreams or build your portfolio.
Now's your chance to give back.
What's 'savings?' We only know 'merch.'
Feel good by smelling good, without shelling out a big chunk of your allowance!
Ward of the bad juju with the auspicious color red and the happy mouse.
Geraldine is part of Candy Rookies 2020, a group of influential and aspirational college students handpicked to represent #GenerationCandy in the year to come.
Looking to sport the long-haired look?
It's actually not an either-or situation.