The American Music Awards 2015 just happened earlier and some of our favorite names from the music world gathered in Los Angeles, California to celebrate music.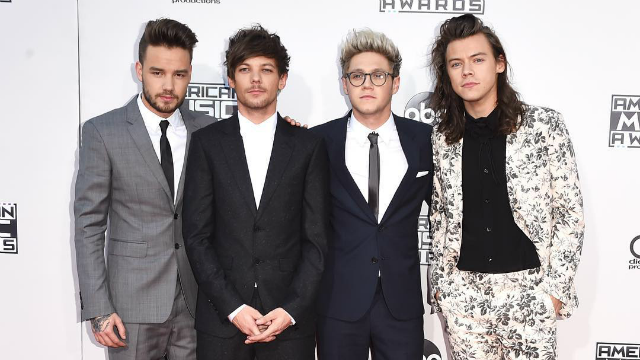 1 Did Harry Styles just roll his eyes at Gigi Hadid?
OH MY GOD HARRY JUST ROLLED HIS EYES AT GIGI #AMAs1D pic.twitter.com/LlHL5IChQw

— Daxi (@d_leewright) November 23, 2015
The One Direction cutie was caught rolling his eyes at the model at the red carpet of the awards show. It happened when Gigi was introduced by Giuliana Rancic to the boys, and she just gave Harold von Styles a handshake while she gave the other boys hugs. Oh no.
ADVERTISEMENT - CONTINUE READING BELOW
2 Anna Kendrick gave the most hilarious acceptance speech after Pitch Perfect 2 won the award for Top Soundrack.
I can't even #AnnaKendrick #AMAs #HaileeSteinfeld #RebelWilson #ChrissieFit #PitchPerfect pic.twitter.com/IBKTU0EIhv

— Bechloe (@bechloetitanium) November 23, 2015
Anna being Anna if you ask us.
3 Ariana Grande performed "Focus" on stage.
OMG OMG JUST ASDFGHJKKKYKEIWONAWNWBB OMG @ArianaGrande #AMAs pic.twitter.com/EMxzlGxguZ

— Adam James Grande (@AdamJCertified) November 23, 2015
Aside from her show-stopping number, the super cute hitmaker also rocked a new hairstyle which caught the eyes of viewers worldwide. Yasss, girl! Ari also took home the award for Favorite Female Artist - Pop/Rock this year.
4 Justin Bieber did the robot dance...
When a snippet of his collaboration with Skrillex and Diplo, "Where Are Ü Now," was played during Jennifer Lopez's opening medley for the event. He clearly loves it as much as we do!
5 One Direction gave us the perfect performance for our Monday blues.
Baby I'm perfect baby I'm perfect for you 🎵🎺🎻 #AMAs1D #AMAs #MTVStars One Direction pic.twitter.com/fgaibsZUnV

— 1D #MadeInTheAM (@MarieMcK2) November 23, 2015
LOL, see what we did there? The boy group, which is bound to go on hiatus for two years (huhu), sang "Perfect" for the #AMAs audience. 1D also received the Favorite Duo/Group - Pop/Rock and Artist of the Year awards this year.
6 Gigi Hadid debuted her short hair.
.@GiGiHadid and @KylieJenner presenting together was UN. REAL. So much beauty at the #AMAs. 😍😍 https://t.co/H5uLgL1zYq

— AMAs (@TheAMAs) November 23, 2015
Taylor Swift's BFF and model Gigi rocked her short hair at the event. She was at the #AMAs to present the award for Favorite Album - Rap/Hip-Hop with Kylie Jenner.
7 Selena Gomez slayed her performance of "Same Old Love."
VIDEO: Selena performing "Same Old Love" at the #AMAs #RevivalAMAs (2) pic.twitter.com/8Axn1t6pMy

— Selena Gomez News (@GomezIsland) November 23, 2015
She was heating up the stage with her killer everything while everyone else wondered where her rumored on-again boyfriend Justin was the whole time. We're wondering where he was, too.
8 5 Seconds of Summer performed their new track "Hey Everybody!" from their album Sounds Good Feels Good.
5SOS performing Hey Everybody! tonight at @TheAMAs ! #5SOSonAMAs #AMAs (11.22.15) (via me) -M pic.twitter.com/wVSgHDip6z

— 5SOS Updates (@5SOSUpdatesLA) November 23, 2015
Ashton, Calum, Luke, and Michael gave a smashing performance of their latest song from their album. Watching them sing it kind of feels like we're getting a preview of their 2016 concert here.
9 Rumored lovers Meghan Trainor and Charlie Puth made out onstage!
ICYMI: @CharliePuth's performance was 👌. And how about that kiss?!? #AMAs pic.twitter.com/n1OqwprzJy

— Entertainment Weekly (@EW) November 23, 2015
OMG, what? Yes, they did. The two musicians shared a passionate kiss at the end of their performance of "Marvin Gaye," but cleared things up after saying they're "just friends." Hmm.
ADVERTISEMENT - CONTINUE READING BELOW
10 Demi Lovato and Alanis Morisette team up for their number, where they sang Alanis's classic song "You Oughtta Know."
Demi Lovato e Alanis Morisette performando 'You Oughta Know' no palco do #AMAs! #DemiOnAMAs pic.twitter.com/AFzuOXcQFA

— FEBRE DEMETRIΛ (@Febre_Demetria) November 23, 2015
Aside from her duet with Alanis, Demi also sang "Confident" for the #AMAs crowd that night.
READ: The Celebrity Hair Trend at the #TeenChoiceAwards You Need to Try RN
11 Nick Jonas delivered an epic medley of his songs.
Were JEALOUS of the back-up singer who just got serenaded by @nickjonas on the #AMAs! 🎶 pic.twitter.com/usKpcOdplK

— cambio (@cambio) November 23, 2015
As if one song weren't enough to keep us chained (LOL!) to Nick, he decided to combine "Chains," "Levels," and "Jealous" for all of us today.
12 Justin Bieber gave this year's finale performance.
Justin Bieber auditioning to be in a Nicholas Sparks movie #AMAs https://t.co/nrJ1yDeCJ9

— ELLE Magazine (US) (@ELLEmagazine) November 23, 2015
And of course he didn't fail us. The Biebs delivered a three-song set, all from his latest album Purpose, for tonight's audience. Justin, together with Skrillex and Diplo, also took home the award for Collaboration of the Year for the track "Where Are Ü Now."
READ: Wise Words From the #TeenChoiceAwards To Inspire You This Week
For the complete list of winners at this year's American Music Awards, go over here.