Is this Korean drama taking over your life? Read on and find out if you've caught the Descendants of the Sun fever!
1. Instead of a friendly wave, you greet your friends with a salute.
And you do that with a big smile plastered on your face.
2. You watch the livestream even though you don't understand a thing.
ADVERTISEMENT - CONTINUE READING BELOW
Omo, the new ep is here!
3. You either check or avoid social media on Wednesday and Thursday nights.
Two things: You want to make sure your fave characters are safe or you just don't want to be spoiled. In any case, please, please, please let everyone be okay.
4. You read recaps and notice details that only legit DotS fans will care about.
How come this recap says it's "Uruk" and not "Urk"? Argh, maybe Argus is right, I should learn this language. Or is it Agus? SMH.
5. Hiding your disappointment is so difficult when you discover that your friend does not watch DotS… yet.
How can you not?
6. The joy you feel when you successfully convince someone to watch it is everything.
*happy dance*
7. You now call your squad Team Alpha, and all your members happen to be ~*Pretty Girls*~.
Ain't that right, Big Boss? Over.
8. You have major LSS on the soundtrack, and you attempt to sing along… or make similar sounds.
*whistles* You are my only one!
9. You ~*research*~ on Korean military hierarchy.
#DescendantsOfTheSun
Soldiers' Ranking pic.twitter.com/J7Dz1GgBXr

— Bi 1004? (@junghyebi) March 28, 2016
Now you see why the Seo Dae Young-Yoon Myung Ju team up is so complicated.
10. You find the confidence to go out without makeup.
On some days, you just have to channel the "awfully pretty" Mo Yeon in you.
11. You've memorized all the kilig-inducing lines (and you secretly hope you'd get the chance to use them IRL).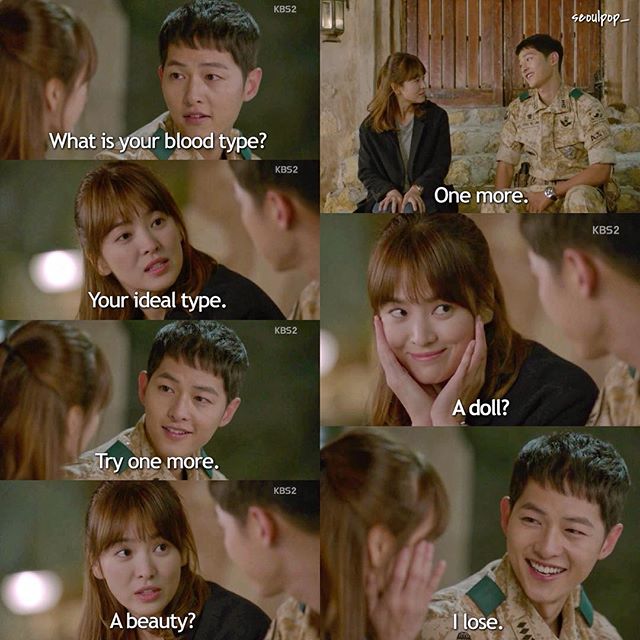 ADVERTISEMENT - CONTINUE READING BELOW
via pictigar.com
So smooth, Dr. Kang.
12. You're not quite sure how the show's title came to be; you just know that it gives you warm and fuzzy feelings.
Because warm = sun. Get it?
All together now: "Aww…"