All Access
12 New Shows and Returning Favorites This Month
Welcome 2015 with newbies Eye Candy and Agent Carter plus comeback shows The Vampire Diaries, Pretty Little Liars, and more.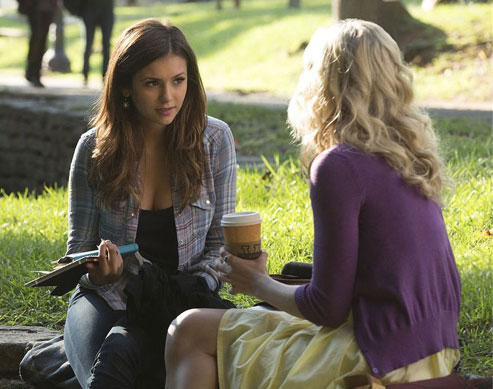 PHOTO The CW
The Vampire Diaries. Paul Wesley directs another episode of the hit show, where his character, Stefan, has to deal with Enzo's revenge master plan.

Eye Candy. Victoria Justice returns to the small screen in this new thriller about a techie genius who may or may not be dating a cyber stalker/serial killer. ~chills~

Pretty Little Liars. Did Alison kill Mona? The girls get their hands dirty to get to the bottom of the murder mystery.

Glee. For the final season, the show is bringing the focus back to Ohio. Don't miss this chance to say goodbye to the New Directions!

The Flash. Barry's New Year's resolution: be strong enough to defeat the Reverse Flash.

Reign. Mary has one more problem with Louis having a major thing for her. Louis's ambitious family pressuring him to seduce her to get closer to the crown sure doesn't help.

The Originals. The plot thickens and the bloodshed continues. (This may as well be the Originals' family motto.)

Arrow. Oliver can't really be dead, can he?!

Agent Carter. The Marvel Universe expands and travels back in time with a new kick-ass heroine: Peggy Carter from the Captain America movies.

Hart of Dixie. Will Zade finally be endgame? Will George and Lavon patch things up? Who's preggers? Watch the rest of season four, which was bumped up to last December, to get the latest on the Bluebell folks.

Gotham. Things are about to get even crazier as Jim Gordon starts his stint at Arkham Asylum by investigating the murder of a guard.

A to Z. Andrew and Zelda spread the love by playing matchmaker to Stu, not knowing that Stephie might not be okay with it.
Which show are you excited to see again? Leave a comment below or tweet us @candymagdotcom!
How much should we rely on them to capture our personalities?
Guys, it wouldn't hurt to add a twist to your go-to look!
Shop with an advocacy in mind!
Is IF advisable for a college student's busy lifestyle?
"Planado na, booked na ang trips."
Share your routines, too!
The next Miss Universe Philippines is said to receive the biggest cash prize in the history of Philippine pageantry.
While there is still a long way to go, it's become so much easier to find like-minded people who share the same cause.
It's a game for those who love to play around and break the rules.
Truth is, you don't need to spend a lot to achieve the feed of your dreams or build your portfolio.
Now's your chance to give back.