All Access
11 Movies to Watch This September
If I Stay, The Maze Runner, and more awesome flicks to catch!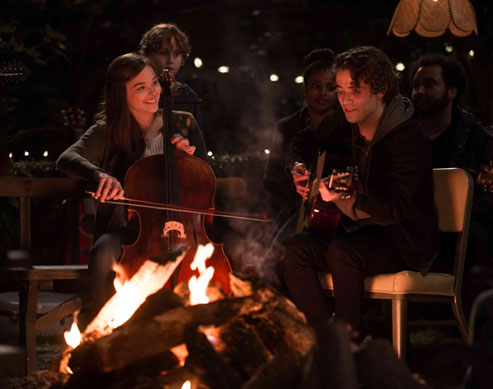 PHOTO Warner Bros. Pictures, GIFs via Tumblr
If I Stay (opens September 3). A lot can happen in one day—just ask Mia Hall, a girl trapped between life and death in the highly anticipated adaptation of Gayle Forman's novel. Starring Chloe Grace Moretz, our August cover girl, with new cutie Jamie Blackley. (Watch this space for more on the movie!)

One Direction: This Is Us (September 6, 7pm on HBO). Lucky Directioners from select countries in Asia have a chance to watch 1D live in Miami (!!!) if they tune in and answer the question flashed onscreen. But at least we can still bask in the glory that is 1D in the comfort of our own home.

[table:0]

Kick-Ass 2 (September 6, 10pm on HBO). Remember when Chloe Grace Moretz was that cute, potty-mouthed kid in ­Kick-Ass? Now she's all grown-up, dealing with new foes and the monster that is high school.

The Legend of Hercules (September 14, 10pm on Cinemax). If you missed Twilight's Kellan Lutz as the legendary hero on the big screen, here's your chance!

The Maze Runner (opens September 17). With boys this cute and action this heart stopping, you'll really hold on to your seats. Watch this space for more on the book-based movie!


[table:1]

Rurouni Kenshin: The Legend Ends (opens September 24). Bow down to the battosai one last time. We must've done something good in our past life to get the trilogy finale just a month after the second movie.

About Time (September 26, 10pm on HBO Signature). Rachel McAdams, Domhnall Gleeson, and timey-wimey love—the perfect companions on a chill Friday night.

via abouttimefilm.tumblr.com

Captain America: The Winter Soldier (now on DVD). Tip: if you haven't yet, watch Marvel's Agents of S.H.I.E.L.D. right after. The TV show gloriously deals with the aftermath of The Winter Soldier, rewarding its loyal fans with game changer after game changer.

The Fault in Our Stars (now on DVD). Like we didn't have enough feels this month with If I Stay and The Maze Runner, you can now take home Gus and Hazel. Because the rewind button demands to be hit.

Godzilla (now on DVD). Ansel Elgort and Shailene Woodley aren't the only actors who've played siblings and boyfriend and girlfriend. Godzilla stars Aaron Taylor-Johnson and Elizabeth Olsen, who you'll see next year as twins Quicksilver and Scarlet Witch in Avengers: Age of Ultron.


[table:2]

Chef (now on DVD). Upside to watching this at home: you can whip up a feast with your family and have a pig-out party along with the characters. Happy eating!


via chefthefilm.com
Looks like the Philippine Philharmonic Orchestra likes Captain Ri's music!
Iced, hot, and frapuccino-style!
Achieve that crunchy Chickenjoy skin.
What if CLOY is really based on a Pinoy teleserye?
Have you tried this internet-famous drink?
The local brand has partnered with charity organization Give PH to help with the donations.
If you're desperate for a cut, YouTube is your best friend.
She recently sang it again during an Instagram Live with husband Taylor Goldsmith!