In case you didn't know, the Pista ng Pelikulang Pilipino has already started and there are a lot of Filipino movies that you should be watching until August 22! 
Our first movie? Jason Paul Laxamana's, 100 Tula Para Kay Stella, which stars Bela Padilla and JC Santos. 
The Plot
Fidel was born with a speech defect, which makes him stutter when he uses more than three words in a sentence. During his freshman year in college, he meets rocker girl Stella and falls for her. Throughout their entire college, he writes 100 poems dedicated to the girl he loves to make her fall in love with him.
ADVERTISEMENT - CONTINUE READING BELOW
*** SPOILERS AHEAD ***
LOL!
Stella as Fidel's fierce friend.
Yes, it's a cliché. And yes, we thought we grew tired of stories involving friendzones already. But we found ourselves falling in love with Bela's portrayal of Stella, the rocker chick Fidel is crazy in love with. Bela as Stella is effortless that we're almost convinced she's not acting at all!
We found ourselves wondering why she just couldn't see Fidel's feelings, but we realize later on why she is the way she is, which made us love her even more. Bela's Stella doesn't need rescuing, as what most guys around her think. She's not the usual broken girl who just seeks love and attention and salvation. She is just a girl who's also trying to figure things out and to make her dreams come true—even if her ways don't always seem right and even if she ends up making more mistakes.
Chuck, Fidel's roommate and close friend.
Fidel might have lost Stella when he moves to Manila, but he finds another fierce friend in Chuck (Prince Stefan). Just like Stella, Chuck becomes Fidel's constant source of strength, courage, fun, and confidence—especially when he finally decides to confess his feelings for Stella through a book of poems he made for her.
Memorabilia from the early 2000s ♥
Call us old souls, but we were really delighted to see the existence of Nokia phones, cassette tapes (even when CDs already existed at this time!), and posters of 98 Degrees and Mariah Carey in this movie. The team's attention to detail is amazing! From the references (Rivermaya's "Balisong," PLEASE) to the fashion (we love Bela's laid-back fashion, BTW), we couldn't help but look back on our younger days and remember all the foolish things we did. Hehehe.
Aww!
Fidel.
You will surely find yourself strongly identifying with Fidel—not only because of his unconditional love for Stella but because of his transition from a clumsy nerd to a brave and confident spirit in the second half of the film. As Stella said during their Freshmen Night, college is a time to know ourselves better—and he did just that.
ADVERTISEMENT - CONTINUE READING BELOW
The changes Fidel goes through are also reflected in his poems for Stella. While he writes the first ones by hand in Filipino, he transitions to doing so in the second half in English and using a laptop—this time, without forcing a rhyme. Says a lot about how much he's got a hold and control over his feelings.
Fidel's character also proves that while he may seem like such a loser, which is how Stella's ex-BF described him, he doesn't need saving—no one does—not even when he breaks his heart during that heartbreaking confrontation scene.
At the end of the day, Fidel is just a person who's also trying to figure things out on his own, which is how we all live life, anyway. And that's not a bad thing; it's just how we learn and we live.
That heartbreaking confrontation scene with Mt. Arayat as a backdrop.
ADVERTISEMENT - CONTINUE READING BELOW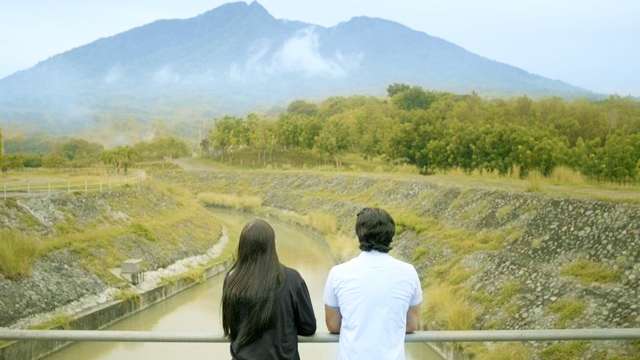 After a long, loooong journey, Stella finally reads all of Fidel's 99 poems—the 100th poem disappeared into thin paper, UGH. But by the time she does, she's married and is expecting a baby with someone else. Fidel is, of course, heartbroken and miserable because he spent years loving Stella in secret.
ADVERTISEMENT - CONTINUE READING BELOW
It's easy to hate on Stella for not waiting. It's easy to hate on Fidel for not realizing that there's no such thing as right timing. And it's easy to hate on everyone from the production team (LOL, sorry, guys!) because why. Can't. They. Just. Leave. These. Lovers. Be.
But then again, that's reality for you, dearest Candy Girls. There really is no right time. There's just time. Most of the time, the right time for you isn't the right time for another. It's the same with Fidel and Stella. The right time for Fidel wasn't the right time for Stella and vice versa. There is no right time, only the right words. How many words do you need to confess your feelings, anyway?
Should you watch it?
YOU SHOULD! Not only will you love the gorgeous shots in the movie (now we want to go and see Mt. Arayat!), you'll also find yourself crying your hearts out for Fidel and Stella's love story that never quite happened, which was told in a brilliant but heartbreaking way. 100 Tula Para Kay Stella will make you feel and break and want to risk it all for the one you love.
ADVERTISEMENT - CONTINUE READING BELOW
100 Tula Para Kay Stella is one of the 12 movies featured in the Pista ng Pelikulang Pilipino. You can catch them in cinemas nationwide from August 16 to 22.