All Access
10 Things We Love About The Return of Glee
Candymag.com Correspondents Andy and Dani list down the top 10 reasons why they loved at the Glee Sneak event.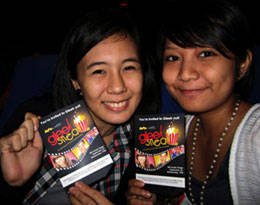 The Gleeks came together at the SM Mall of Asia Centerstage for the anticipated season premiere of Glee! We joined in on the fun, making us come up with the top 10 things that made the already awesome series comeback even better!
10. PHOTOBOOTH – Close Up sponsored a photo booth where everyone could get their photos taken with matching wacky props. We took our turn and did the famous "L" sign to show off our inner gleeks!
9. SEATS – Everyone at the event either sat on the premiere section or the middle area of Centerstage! Solar TV really spoiled the viewers, providing us all with good seats! In addition, we were especially thrilled when we got to sit at the "Press" section of the cinema. Cool huh? Oh, the perks of being a Candymag.com Correspondent!
8. GLEEKS – Gleeks were everywhere that night! If you are a fellow Glee lover, then nothing beats being in a room where everyone speaks Glee! The people who participated in the trivia contest were so competitive since they all knew the answers to the questions! Amazing!
ADVERTISEMENT - CONTINUE READING BELOW
7. DANCE NUMBER – We were not only treated with a commercial-free (you got that right!) premiere of Glee Season 2's pilot but also a dance number before the show. Everyone ended up singing along with the performers actually!
6. FOOD – There was a lot of free food! A variety of pica-pica was served, paired up with refreshing drinks to prepare us for the night's event.
5. INTERVIEWS & PHOTO OP'S – Both of us felt like instant celebrities as we got interviewed by different TV stations, paired up with random press people asking for pictures throughout the event. Same goes evidently for the other participants in the event!
4. LIGHTS & SOUNDS – What's better than watching Glee? Watching it in the big screen with amazing sounds of course! Now that makes Lea Michele's (and now even Charice's) already amazing voice a whole lot better (which we thought wasn't possible! :)).
3. FREEBIES – There were loads and loads of freebies! Specifically free shirts from Jack TV and ETC, skin care products from The Body Shop, Gift Certificates from Myra, Michelis, KFC, Close-Up and a whole lot more! A raffle took place, as well as other participative games in order to treat the Gleeks after months of being Glee-less!
ADVERTISEMENT - CONTINUE READING BELOW
2. NEW GLEEKS ON THE BLOCK – Everyone was thrilled to see new the additions to the incredible Glee cast! First off is Ms. Bieste who plays the football coach and seems to be the new rival of Sue Sylvester (Does anyone else feel a good song battle coming up? Exciting!). There are also the new kids of McKinley High namely Sam Evans (the new quarterback) and of course, Sunshine Corazon (our very own Charice who just made the toilet a really cool place for a showdown!).
1. GLEE IS BACK! – We can again get our weekly dose of Glee starting Wednesday, September 22, 2010 at 4pm, with a primetime telecast at 9pm, only on Jack TV and ETC. Who's excited for the next episode? We're sure that all you Candy Girls out there are! :)
Glee airs Wednesdays at 4pm with primetime airing at 9pm on ETC.
<>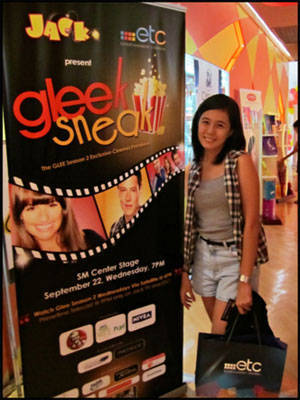 A lot of them are apps we haven't heard of before.
We're sure you've seen portraits on your feed.
Some good news to start your day off!
It includes Lee Min-ho's TV comeback!
Meanwhile, the number of confirmed cases in the Philippines is at 2,633.
It's okay to admit if you're having a hard time doing the one thing you thought you were good at.
All the outfits and props were just things found around their house!
"You wish to know where my true loyalties lie? Not with any king or queen, but with the people."
Kayang-kaya niyo 'to gawin at home.
And it's all thanks to low air and light pollution.
It's part of a dashboard that helps you monitor all the confirmed cases in the country.
With a load of cute behind-the-scenes footage, too!