All Access
10 Things All #JaDine Fans Are Tired of Hearing
Let's stop the hate, guys!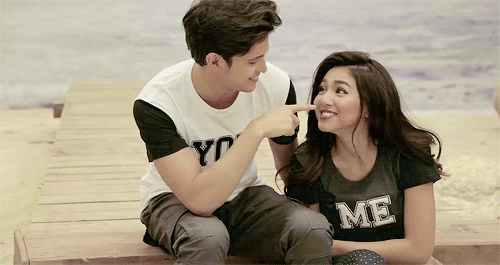 GIF Bench/Tumblr (@thejadinenetwork)
We've already said it before, the one thing we hate about fangirling is dealing with bashers and haters. We encourage everyone to be passionate about the people, shows, and music they love, but when it gets to the point where we say bad things about other people, it's a bit heartbreaking. This hate-talk has to stop.
Last week, we talked about the bad things we just don't want to hear anymore about #KathNiel. This week, we're giving you a few things #JaDine fans are also tired of hearing. Let's all respect each other's fandoms, you guys. Make this world a better place for our fangirl hearts, okay?
"Their 'relationship' is just for show."

"James isn't serious about Nadine."

You can't fake glances like that. Let's not be judgmental, please.

"Why do they always need to have artsy photos and videos?"

Because they're artists and they need an outlet.

"That relationship won't last."

Ya$$$, someone can actually predict the future now.

"James/Nadine is more in love with Nadine/James."

"They only have one acting style."

Please watch their projects together starting with the music video for "Alam Niya Ba," then get back to us.

"They can't make it without each other."

"They don't look good together."

So how come they've been working together for years now?

"They're too PDA-y."

Because that's what you see online since we looove those moments. But if you stalk them 24/7, you'd see more than those hugs and kisses.

"Their time will pass, too."

We know it's not always going to be like this, so let them have this moment now.
What are you tired of hearing already, JaDine fans? Let's talk in the comments. We always love hearing from you. :)
\\\\\\\\\\\\\\\\\\\\\\\\\\\\\\\\\\\\\\\\\\\\\\\\\\\\\\\\\\\\\\\\\\
Get the latest updates from candy!
subscribe to our newsletter!
////////////////////////////////////////////////////////////////
Skip a makeup step with these beauty goodies!
Take pretty notes and study effectively with these tips!
Wait for a love like this. A love that is good to you, for you.
Are you up for this challenge?
Can't wait to see the actual gowns!
The up-and-coming musicians and childhood friends talk about their music, creative process, and why it's important to be woke.
Because when it comes to a great lip game, there's really no need to splurge!
A different language sheds new light on everyday terms.