All Access
10 Struggles All Transfer Students Know to be True Expressed in New Girl GIFs
The world just seems like a dangerous place when you are your new school's newbie.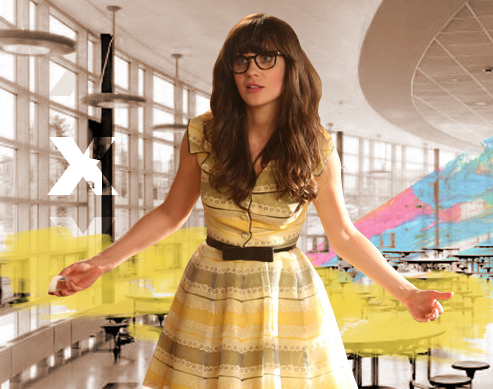 ART Trixie Ison PHOTO FOX Broadcasting Co.
Moving to a new school isn't easy. What makes it worse? Your own paranoid self. Your fears get the best of you, and you don't even know how to deal. You want to run to your mom and dad, and beg them to please let you go back to your old school and be with your old friends and allow you to continue living your old life. But you know that's not possible. So how do you deal? You think about all of your fears and just laugh at them. Not that doing this will make all of them go away, but it will become easier for you to face your fears. Shake them off, and before you know it, you're already one with your new school and your new schoolmates. After all, things are just new for a day. After that, they're just things. So here's us helping you laugh at your transfer student struggles and face them with a positive spirit.
ADVERTISEMENT - CONTINUE READING BELOW
1 A part of you doesn't want to get up in the morning.
If only you can skip being a newbie and go straight to when you're already awesome. HUHUHU.
2 Every time you walk the hallways, it feels like all eyes are on you.
CONTINUE READING BELOW
Recommended Videos
You've got the word newbie tattooed on your forehead.
3 You have no friends.
Therefore, recess and lunch become your problems. Who are you going to eat with? Should you eat them in the restroom a la Cady Heron in Mean Girls?
4 And on the rare chance you make one, you have to deal with their entire barkada.
What if one of them doesn't like you? Will they just kick you out or ignore your existence?
READ: 10 Struggles Only Girls Who Are Grade-Conscious Will Understand
5 You don't know who to ask for help.
You need to learn about your new school's culture, but you don't know who you should go to. Thanks to all those high school and college movies for messing with your head, now you believe that everyone's just going to make fun of you once they find out you're the clueless newbie.
ADVERTISEMENT - CONTINUE READING BELOW
6 So when you're really having problems...
You just try to keep it inside. Conceal, don't feel, don't let them know.
7 You have the worst #TrustIssues.
You become so paranoid about anything and everything, so you think you're better off alone.
8 But when you are alone, you just think something is wrong with you.
Because why won't anyone want to be friends with you? :(
9 So you try to be normal and be nice to everyone.
Hoping that one day someone will get your weirdness and still want to be with you despite it.
10 So when a few months in you finally have company, you celebrate inside like there's no tomorrow.
Moving to a new school isn't so bad after all. Hello, new friends!
READ: 10 Struggles Only Girls with Big Boobs Will Understand
Ever experienced being the new girl in school? Let's talk about it in the comments or via Twitter @candymagdotcom. We always love hearing from you. :)
ADVERTISEMENT - CONTINUE READING BELOW
What are other women empowering moments you remember?
Get to know Dani Go in this Q&A with Candymag.com
Netflix's Moxie is all about finding your voice. *Spoiler alert if you haven't seen it yet*
It seems Pasig City residents are eager to work with the LGU!
We take a look at some of the most inspiring fictional women locally and internationally.
'Mom and I have worked so hard to get to where I'm at.'
It's all thanks for their common love for making coffee.
They once received a lot of hate for their dark skin, but they rose above it and are now leading the shift in society's beauty standards.
First of all, you will be laughing so hard with each episode. Surprise!
Some important life lessons...
The frustration is real with these dramas!
From The Candy Bulletin Community