It's been almost 40 years since the first Star Wars movie hit screens, and since then the phenomenon has gotten bigger and bigger, reaching galaxies far, far away. The force is strong with this one and it's only going to get stronger when Star Wars: The Force Awakens premieres on December 18, a decade after the last one was released.
Even if you've never seen a minute of any of the movies, you probably know the major plot points and iconic characters thanks to your friends or relatives who are fans, or the TV shows and movies you watch. Below are some of the best Star Wars references in recent pop culture—feel free to add to the list in the comments!
1 Modern Family. We wouldn't be surprised if Phil named his son Luke just so he could say this iconic quote.

via f*ckyeahmodernfamily.tumblr.com
ADVERTISEMENT - CONTINUE READING BELOW
2 The Big Bang Theory. The boys are big fans of all things geeky so it comes as absolutely no surprise that Leonard and Sheldon got caught breaking into George Lucas's famous Skywalker Ranch. "Do you think they're going to call the police?" "I don't know. Maybe they'll call imperial officers to take us to a holding cell on the Death Star."
3 The Flash. Cisco lets his geek flag fly with a Keep Calm and Han Shot First shirt.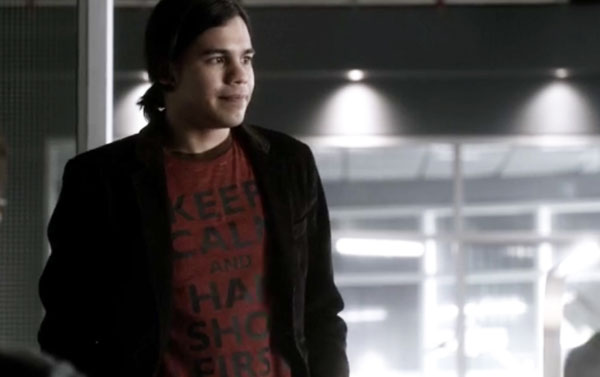 4 Captain America: The Winter Soldier. Think you're having a hard time catching up on your shows? Try catching up on decades' worth of pop culture like the Captain. His list varied in different countries where the movie was shown, but Star Wars was a constant, showing the universal love of humankind for the space opera.
ADVERTISEMENT - CONTINUE READING BELOW
5 How I Met Your Mother. Marshall feels very, very strongly about the fact that Ted's girlfriend has never seen Star Wars.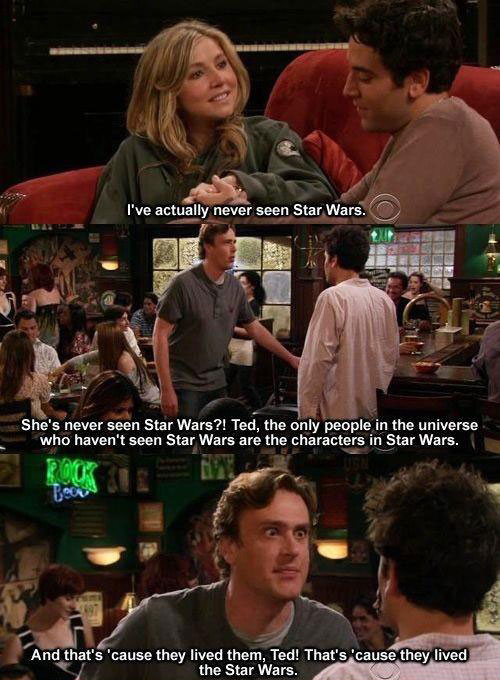 6 The LEGO Movie. What's an all-star cast without a surprise appearance by Han Solo, Chewie, C-3PO, and Lando Calrissian? Fun fact: C-3PO and Lando were voiced by the same actors who played them in the Star Wars movies.
ADVERTISEMENT - CONTINUE READING BELOW
7 Star Trek. Blink and you'll miss R2-D2's appearance. Good thing someone came up with this video!
8 The Twilight Saga: Breaking Dawn Part 2. Remember when Jacob told vampire!Bella, "Surprised that you took a break from Jedi training"? Even werewolves have geek cred!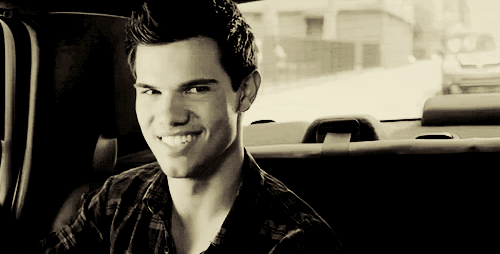 via summer-paradise-stavrixx.tumblr.com
ADVERTISEMENT - CONTINUE READING BELOW
9 Once upon a time, Finn dressed up as Luke Skywalker, Puck as Han Solo, and Chewbacca himself came to wish them all a very merry Christmas.
10 Night at the Museum: Battle of the Smithsonian. Darth Vader does his creepy breathing thing, but Kahmunrah is clearly not impressed. "What is the cape for? Are we going to the opera?" HAHA!
ADVERTISEMENT - CONTINUE READING BELOW