The Scream Queens finale was two hours of what-fresh-hell-is-this revelations, gorgeous Chanel OOTDs to inspire your next look, and best of all, hilarious moments that reminded us why we loved the show in the first place. Here are a few of the moments that had us laughing in the middle of all the blood and gore!
1 Chanel's hate mail accidentally sent to all: "I'm literally asking if your tiny slut brains have the power to process ANY OF MY SUPER SIMPLE, ORANGUTAN-LEVEL INSTRUCTIONS!" Oh, Chanel!
2 Pete wearing Chanel #3's fluffy pink earmuffs to go undercover so he can get her DNA sample.
3 Chanel's idea to go on a fake apology tour after realizing that people have feelings and that words are "like weapons or something."
4 Young Hester realizing that a neck brace (stolen from a fellow asylum patient, of course) was the best cloak of social invisibility. Harry Potter would not approve!
5 The Hester and Boone twin dynamic.
Boone: I don't understand why we don't just stab this girl.
Hester: Because this is more dramatic.
Boone: I don't know, stabbing can be pretty dramatic.
Hester: This is more poetic. It hits these girls right in their vanity.
Boone: Wait, we're spraying acid on their furniture? How is that going to hurt them?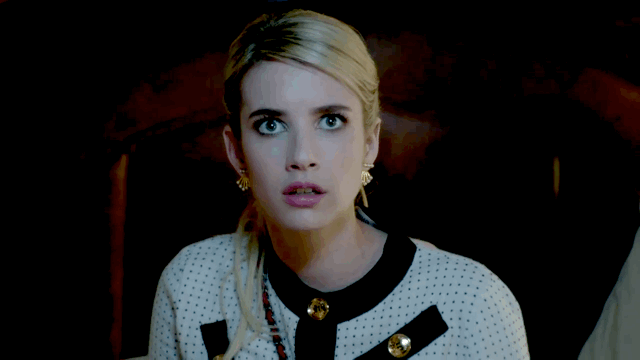 via akamatthewmurdock.tumblr.com
ADVERTISEMENT - CONTINUE READING BELOW
6 Chanel's priorities after Hester stabbed herself in the eye with a stiletto. "It's going to be okay! Can we save the shoe?"
7 Denise and Chad's happily ever after cut short when the FBI came calling. Chad: I don't understand how you can just end it.
Denise: Because we're chasing waterfalls! We gotta stick to the rivers and lakes that we're used to!
8 Chad's heartfelt inscription on the memorial built in honor of the Red Devil's victims: "To our fellow students, we are super sorry that you are dead. We didn't know all of you that well. But some of you were hot."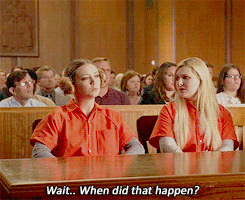 via conservativeuptightmeangirl.tumblr.com
9 Incarcerated Chanel #3's Princess Leia hair in lieu of her earmuffs, which she likes to pet and fluff when she receives compliments like "You are the worst human being that I have ever encountered."
10 The iconic, triumphant "Don't You (Forget About Me)"" from The Breakfast Clubsoundtrack playing in the last few minutes as the Chanels were sentenced to life imprisonment at an asylum. *slow clap*
What was your favorite moment in the finale? How excited are you for the next season? Share your thoughts with us and leave a comment below!