All Access
10 Fictional Characters That Would Make the Perfect Valentine's Date
Who would you pick to be your Valentine?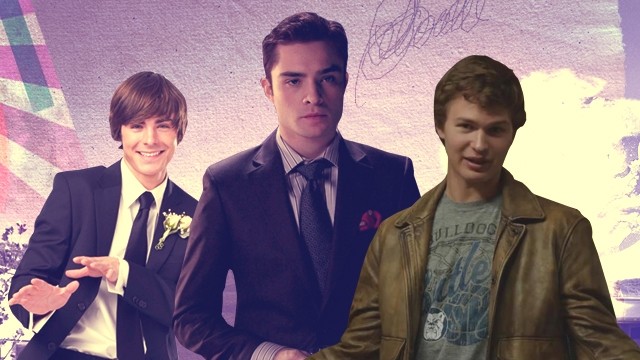 You want that cute boy in math class for your Valentine's date? BORING! Instead of pining for your crush who ignores or seenzones you on Facebook, start dreaming of these boys who don't exist instead! I'm just joking but wouldn't it be nice if your favorite fictional character magically appears IRL and takes you out on Valentine's day? So let me fulfill all your fangirl fantasies by giving you all these perfect scenarios with your favorite fictional boys.
Barry Allen, The Flash

Is it just me or does him being a superhero make him 10 times hotter? Sure, you're more likely to get kidnapped in the middle of the date as ransom but there's a quality of thrill and sexiness a superhero gives. More than that, it's not hard to see how Barry Allen can be the perfect Valentine's date. He might come off as a little awkward and shy but there's this sincerity in his eyes that will surely make you smile. He'll probably take you out on a nice fancy dinner and give off a few nerdy jokes. Oh, and even though he's the fastest man alive, there's a 90% chance he's going to be late but you'll forgive him because he was probably fighting off an evil metahuman. You'll end the date down at the Local Jitters Café and meet all his friends because the date will get cut short due to some superhero emergency. The next morning though, you'll probably get flowers from anywhere you want around the world delivered to your doorstep with an apology note and an invitation for another date.

CONTINUE READING BELOW

Recommended Videos

ADVERTISEMENT - CONTINUE READING BELOW

Will Herondale, The Infernal Devices Series

With the dark and mysterious Will Herondale, you'll be out on a Valentine's Day date you'll never forget. It may not be the most ideal date but it sure will be one full of adventure. He'll probably bring you to some haunted area and will get you to go ghost hunting with him. He'll probably think that the most romantic thing you could do together is slay a demon. Don't worry though, he will protect you valiantly and fearlessly throughout the whole night. Maybe he'll even get himself injured; now isn't that dangerous but exciting? When both of you are done being badass, you go back to his place and get served with a warm home-cooked meal by his housekeeper.  Then you'll both cuddle up by the fire in England, as he reads you stories with that extremely attractive British accent; his words flowing through you like a dream.

ADVERTISEMENT - CONTINUE READING BELOW

Augustus Waters, The Fault in Our Stars

Prepare yourself for a night with a boy whose words you fall for hook, line, and sinker. Unlike the other boys though, he means what he says. It's just that he has a way of enchanting you with the ideas and beliefs he talks about. He'll take you out to a spot in the park no one else knows about and romance you with a tasteful picnic dinner. You'll spend the night talking to each other about anything and everything.  Before you know it, you find yourself watching the sunrise with him, and it's so simple it's bewildering but somehow even more meaningful than any fancy dinner anyone could give.

Legolas, The Lord of the Rings

To begin with this man is GORGEOUS, who wouldn't want to go out on a date with him? He's the kind of good looking that is so unique, it takes your breath away. Imagine this: you'll probably start off the date with him teaching you archery in the afternoon surrounded by the most beautiful landscapes. As night falls, the scavenging for food begins. All your food will be hunted by him or for those who are vegetarians, will be picked up from the vegetation in the forest. There's something so charming and comforting with this kind of rustic date. With nothing but the silence of the woods and the crackling of the campfire that's both cooking your dinner and illuminating that gorgeous face of his, it's almost impossible to not feel the romance in the air. Not to mention that both of you can also cuddle up for additional sources of heat.

ADVERTISEMENT - CONTINUE READING BELOW

Maxon Schreave, The Selection Series

Who wouldn't want to be a princess even for a day? This is the luxury Prince Maxon can give. Let yourself be won over by his charming ways, teasingly calling you my dear, and surrounding you with luxury. He'll make you feel like a princess, not just because of his status but his ability to make you feel weak at the knees. At the end of the day despite all the fancy things that comes with being his Valentine princess, what you'll enjoy the most is the quiet walk through his wonderful gardens. You'll realize that even if you're surrounded by all the fine things in life, the best feeling in the world is being with the person talking to you at that very moment and that's all you could have ever asked for.

Chuck Bass, Gossip Girl

Reformed bad boys are always so irresistible. Sure, they're a little more arrogant but deep inside they're all mushy and sweet.  When you think about it too, Chuck Bass sure does know how to show someone a good time. Cunning, charming, and excessively rich, he'll be one heck of an interesting date for Valentine's. He will shower you with love and gifts. Forget the roses for Valentine's. He'll probably give you a diamond necklace instead. He will be the perfect gentleman the whole night, taking you out to the best restaurant in town and telling you that you are the most captivating person in the world. You'll end the night overlooking the view of the city, whispering sweet nothings to each other. If this is too cheesy for you, don't worry he'll still probably take you somewhere and cause a little trouble to liven up the night.

ADVERTISEMENT - CONTINUE READING BELOW

Troy Bolton, High School Musical

Admit it. This boy still has a hold on your heart. Come on, he's hot, captain of the basketball team, can sing and dance. He's the ideal boyfriend everyone wanted in high school. You'll think he's forgotten Valentine's until he calls you in the middle of the night, telling you to come out because he has a surprise for you. You'll come down in your pajamas but he won't care because in his eyes, you are still the most beautiful girl in the world. He'll then proceed to take you out with your parents' permission of course. You'll drive to this mystery place in his pick-up truck and take you to the school. At first you'll be confused until he brings you to the school roof deck garden which has been decorated with fairy lights. Right in the middle of it, is a dinner table set for two with meals cooked by his good friend, Zeke. You'll enjoy the rest of the night having that delicious romantic meal, singing, and slow dancing to your heart's content.

ADVERTISEMENT - CONTINUE READING BELOW

Harry Potter

This British cutie will charm his way into your heart-literally. With him, you will have the most magical night. He will show up at your house with not just a bouquet of flowers but thousands of them appearing with a flick of a wand.  There will be no need for fancy cars to be taken to your destination with this boy, the view you'll get on his flying broom will be 10x better than anything else any other ride could give. He'll then bring you to watch a Quidditch game with him and then later cozy up to you in a little restaurant with butterbeer. The night will end with him removing all the lights from the street and kissing you on your front porch.

Percy Jackson, Percy Jackson and the Olympians Series

He may be called seaweed brain but he'll soon be the only thing on your mind after your Valentine's date. Now it won't be anything fancy really. Since both of you will probably be tired fighting off monsters for most of the day. Instead, both of you will just chill at his cabin, cuddling up while watching movies endlessly on Netflix. No need for a fancy dinner too to make things cheesy or romantic, you're both good with cheeseburgers and blue soda. You'll spend the whole night laughing and talking about all the misadventures you both got yourself into that day. It's cute, comfortable, and yet still special. You don't always need chocolates and flowers to make something memorable.

ADVERTISEMENT - CONTINUE READING BELOW

Clark Medina, On The Wings of Love

He may not come off as the sweetest guy at first but when you break down his walls, he'll put in all the effort he can to make you feel loved. He's not rich so he'll instead make it up to you doing what he can to keep you as a Valentine. He'll cook breakfast for you and give you flowers and a beautiful necklace that took him months to save up for. Right after, he'll walk with you by Manila bay and make you laugh till your stomach hurts. Even though every girl you will come across or rub elbows with that night will be trying to get his attention, it's impossible because he has, had, and will have eyes for only you. Once you get home, he'll set up a simple but romantic candlelit dinner for you guys. You'll feel nothing but love and appreciation seeing how much effort he put in to make your night special despite the fact that he has very little. A big heart triumphs over wads of cash in your eyes and he smiles knowing that you know this too.

ADVERTISEMENT - CONTINUE READING BELOW
Who's your dream Valentine date, Candy Girls? Let's talk in the comments! :)
The project is said to be pushing through in 2021.
Tthe Kapuso star also recently ventured into video game streaming.
The twins also disclosed that Mavy is the "boy version" of Carmina, while Cassy is the "girl version" of Zoren.
Acting is just one of the many things she has to offer.
Looking for the perfect Christmas gift?
Alden is using his quarantine hobby for a good cause.
Before becoming the actress that she is now, Anya Taylor-Joy started out as a model.
Honestly, are you even surprised?
"I still failed so many more times after that, but I kept going."
UP placed 69th, beating out over 600 other universities in Asia.
From The Candy Bulletin Community