All Access
10 Cute Geeky Guys on TV
Nerds rule!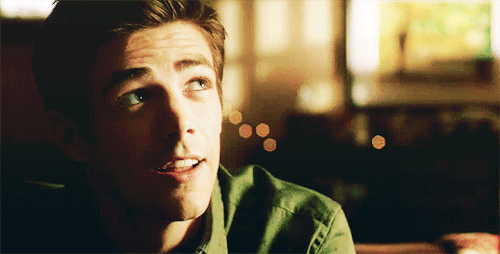 IMAGE telefilmaddictedforever.tumblr.com
Barry Allen from The Flash
Waking up one day to find that you're a superhero is a geek's biggest dream come true, and Barry not only realizes the magnitude of this gift, but also uses it for the greater good. 
Stiles Stilinski from Teen Wolf
With his clever puns, accurate observations, and overall awesomeness, Stiles will never go out of style.
Seth Cohen from The O.C.
Seth was the cool emo geek before it was actually cool to be one. Thirteen years later, we still can't listen to Death Cab for Cutie without immediately thinking of this awkward turtle.
Dan Humphrey from Gossip Girl
We'd keep this Lonely Boy company anytime. (P.S. We still don't buy that he's Gossip Girl, and neither does Penn Badgley!) 
Chuck Bartowski from Chuck
ADVERTISEMENT - CONTINUE READING BELOW
When Chuck, a tech whiz working at a retail store, unintentionally downloaded the contents of a supercomputer, it made him the most valuable—and reluctant—asset of the CIA and NSA. We loved watching his adventures as his super spy alter ego Charles Carmichael as much as we loved seeing plain ol' Chuck kick it with his Nerd Herd bros.
CONTINUE READING BELOW
Recommended Videos
Ray Palmer from Legends of Tomorrow
Not all tech billionaires grow up to become super villains—if we're lucky, they become superheroes! Reminder that in another universe (read: the 2006 movie Superman Returns), Ray Palmer a.k.a. The Atom was Clark Kent a.k.a. Superman.
Ravi Chakrabarti from iZombie
"I'm a tall doctor with fantastic hair and a British accent. I don't even need to be this attractive. Just icing." Ravi is the best, funniest friend that a girl (or zombie) could ask for.
ADVERTISEMENT - CONTINUE READING BELOW
Sheldon Cooper from The Big Bang Theory
Even though he won't share his spot on the couch or condone spontaneity, there's something endearing about Sheldon, like when he sings his favorite "Soft Kitty." Soft kitty, warm kitty, little ball of fur / happy kitty, sleepy kitty, purr, purr, purr...
Winn Schott from Supergirl
Every superhero's got to have a crew, and Supergirl is so lucky to have this funny tech genius by her side.
Jim Halpert from The Office
Inside this prank master is a hopeless romantic pining for the girl in the next cubicle. With Jim around, you can bet that mischief (and eventually, romance) is always managed!
Pretty sure you already have it!
Her family just keeps getting cooler and cooler.
Harvesting endangered greens is on the rise. Here's what you should know.
She also just made her relationship Insta-official.
Need a break from K-dramas?
They're releasing a Central Perk-inspired miniature, too!
Ready to go trick-or-treating?
It has built-in transition lens that switch from clear to dark.
You can use the neon or the pastel highlighters.
The popular mobile game has something planned with the K-pop group.
Get to know Aldrean Paul Alogon, the 2019 Breakthrough Junior Challenge winner.
From The Candy Bulletin Community