All Access
10 Best Moments from Hunter Hayes' Singapore Showcase
Your first look at the country cutie's mini concert last week!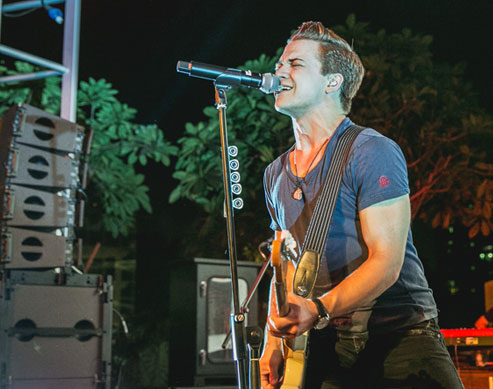 PHOTOS Warner Music
If you follow us on Instagram (what do you mean you don't? Clickety click here!), you would've seen snippets of Hunter Hayes' Singapore showcase last week. We actually flew to SG just to see the country cutie perform at The Star Terrace in front of an ecstatic crowd. (Though we're sure you guys can do better and louder if he puts on a show here, right?) We wish we could've brought all of you Hayniacs with us, but for now, here are the best moments from his mini concert.
When he finally went onstage to the delight of a super excited crowd. Almost everyone brought posters to show their appreciation for Hunter.


When he was ready to rock out from the get-go.


When he kicked things off with hit single "Storyline."


And when we say kick things off, we mean kick. Things. Off.


When the crowd sang along as he performed "Tattoo."


When he introduced "Wanted" with a little bit of Elton John's "Your Song."


When he showed off his guitar skills in the middle of "Secret Love." Dude can really play.


When everyone had their hands up in the air.


When he was super into it that he couldn't care less that his shirt was soaked in sweat.


When we thought he was leaving after just a few songs but then he came back to sign autographs and take photos with everyone.

Want more of Hunter? Check back soon for more of his SG trip!
Thailand rethinks its elephant strategy.
Who else wants a basket full of mojos?
We're hoping to see more of these in different LGUs!
Sometimes, no matter how hard you try, some people just won't vibe with you, and that's totally fine.
Have you tried the #ComeAroundMeChallenge?
The cheerleading docu-series is a phenomenon.
A lot of them are dirtier than a toilet seat.
The kind of wholesome content we all love to see.
Being away from each other teaches you to cherish every moment together even more.