All Access
10 Benedict Cumberbatch GIFs to Unbreak Your Heart After That Sherlock Episode
Have you seen it already?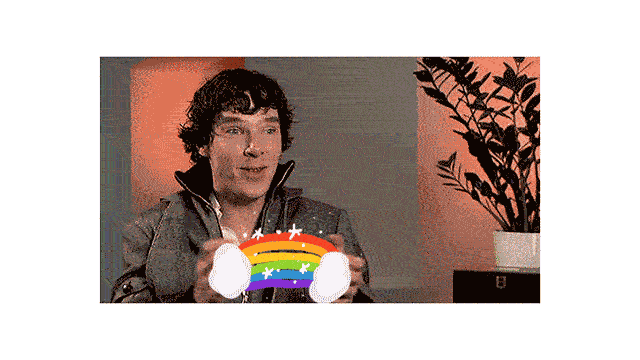 IMAGE f*ckyeahreactiongifs.tumblr.com
New year, new Sherlock, new heartbreaks. The latest Sherlock episode had us weeping into our leftover lechon and leche flan, from (SPOILERS!) Sherlock spending QT with Watson's newborn baby, to watching Watson and Mary as new parents, knowing that the actors who play them (Martin Freeman and Amanda Abbington) just broke up after 16 years together, to Watson cheating (!!!) on Mary in between diaper changes, to Mary (BIG FAT SPOILER ALERT) taking a bullet for Sherlock.  
There's sooo much to unpack. After believing his best friend was dead for two years and now having his wife die in his arms, how much more could Watson take? Will he and Sherlock ever patch things up? How's Sherlock going to handle all this guilt? How long till he pisses off or gets bored with his psychologist? Who's that girl that Watson was flirting with? How are we going to function till the next Sherlock episode?
ADVERTISEMENT - CONTINUE READING BELOW
We know nothing except for the universal truth that a good Benedict Cumberbatch GIF is like a warm hug straight to the heart. Here are 10!
Only baby Rosamund can get away with this much sass with Sherlock.
You think Sherlock's cute with his best friend's baby? That's nothing compared to Benedict Cumberbatch with his actual baby.
How to look this cute and prim and proper when we refuse to get out of bed?
Really the best explanation for how Sherlock survived that fall.
LOL-ing at his attempt to not laugh!
Otter face in full force.
Like a puppy pretending to be a lion.
Queen Bey would approve.
When Benedict is happy, the whole world's happy.
Yas, All, werq! Stopping here because really, how can you top this?
How did you feel about the new Sherlock episode?
If you're desperate for a cut, YouTube is your best friend.
She recently sang it again during an Instagram Live with husband Taylor Goldsmith!
They also had a short jam session!
"I was genuinely afraid I would die, because that is what it felt like."
If you haven't already picked up on that.
It'll be just like the good, old days-except now, you can watch it any time, anywhere.
Molo has since posted his public apology online via Instagram stories.
Finally, something to look forward to.
This is just heartbreaking.
For "a different kind of positive," as designer Ram Silva puts it.
All you need is coffee, hot water, and milk sugar is optional!