All Access
10 Awk-some Things To Watch For
Awkward is coming back for season three!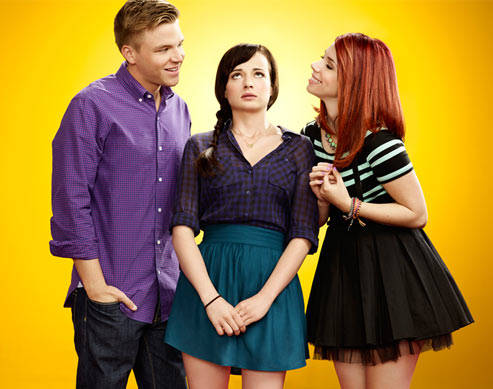 I've had the most embarrassingly detailed discussions about MTV's Awkward and Team Matty/Jake, so you understand why I'm so excited for season three. Here's a bunch of things to look forward to when it premieres on MTV Asia later this year.
The new love triangle: Jenna vs. Tamara and her new European ways. Fresh from the European summer that Jenna snubbed, TT is totes easy, breezy, beautiful. Chic new haircut and wardrobe? Check. Chill, no-need-to-DTR attitude? Check. Euro-fied boyfriend Jacque (that's good ol' Jake for us mortals)? Check!
Speaking of TT and Jacque, I cannot get over their couple selfies. "Pixelize us?"
Jenna's Matty cocoon. Cute one minute, Hmm, how 'bout no? the next.
The Ming Era. You haven't forgotten about Jenna and Tamara's other BFF, have you? Between the Chinese mafia at school and one other thing, let's just say that Ming is ballin'.
The return of Jenna's unruly, perfectly ordinary bangs. I've got bangs myself, and I feel ya, girl. We can't all have a blow-dry every day.
The pregnancy rumor. Who could have a bun in the oven? Sadie's the top suspect and her practically eating for two doesn't help squash rumors. "I have bigger fish to fry than him—are you gonna eat your pickle?"
Jenna's sadistic creative writing prof. Of all the outrageous things he said, the permission slip he handed out takes the cake. For the parents: "I give you permission to psychologically torture my child." Sign on the dotted line.
The inefficient and hilarious guidance counselor/vice principal. Who actually has two hard copies of Jenna's controversial blog. "You know, for work and home. Sometimes I need a good angsty soap to put me to sleep."
Someone gets kicked off the show in a very surprising way. Who copes by being all YOLO? Who turns to French fries for comfort? Who's guilty of oodo-voodoo-ing the kicked-off person?
This.


CONTINUE READING BELOW
Recommended Videos
ADVERTISEMENT - CONTINUE READING BELOW
Sadya or just a pure mistake?
Is law school something you want to pursue?
UST's entrance exam won't be administered this year.
In college, your course doesn't necessarily indicate the industry you'll find yourself in after graduation.
WATCH: Issa BOP: 'Best Of' Playlist episode one!
It's part of their LGU's Basic Education Learning Continuity Plan.
She got the attention of their mayor, Vico Sotto.
As traditional universities adjust to their new normal, there are schools that have made the transition years ago.
We can't stop looking at them!
The two are also starring in a new ~virtual~ drama together!
From The Candy Bulletin Community