Features
Here's How You Can Save on Your Debut Souvenirs
Find ways to minimize spending on favors for your debut.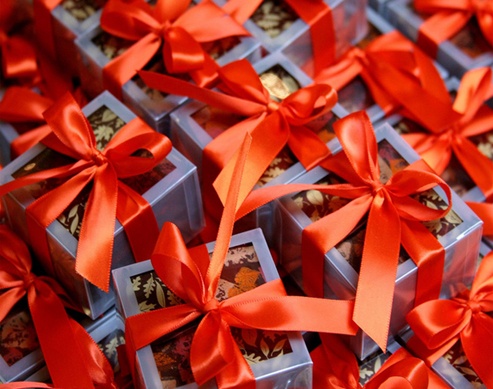 Your debut souvenirs will be your parting gifts for your guests. They're usually the last thing they'll see at your party, so you want to give out nice favors to encourage pleasant memories of your debut.
Memorable souvenirs don't have to be expensive. To save on your debut favors, see our tips below.
Make your own
Taking on DIY projects is one way to personalize your debut details. Do note though that since each guest will receive one token, you'll need to start early to finish all the souvenirs. Start doing crafts early, or better yet, gather family and friends to help you out.
Opt for dual-purpose items
One way to save on debut details is to maximize the use of each item. In the case of debut souvenirs, opt for those that can be used in more ways than one. For example, you can have colorful candies in pretty jars as table centerpieces—and then give out containers for the candies so guests can take home the sweets at the end of the event.
Place large orders
Souvenir suppliers usually have a minimum number of pieces for orders. You'll notice that as youorder more favors, the price for each piece goes down. If you'll have lots of guests, make sure to place your order for souvenirs in one go rather than in installments so you can enjoy discounted rates.
Go to the source
Favors sold in well-known establishments have been marked up because they carry a prominent brand name. To save on your favors, contact the makers directly. They might be able to give you their factory price, since their products haven't been branded for commercial selling yet.
Use affordable packaging
Most suppliers offer customized packaging. While these are pretty, they can also be costly. To minimize expenses, ask your supplier if you can have the favors packaged in other ways. You'll find that there are lots of affordable packaging—like brown paper bags, glassine bags, or colored envelopes—in supermarkets or bookstores.
\\\\\\\\\\\\\\\\\\\\\\\\\\\\\\\\\\\\\\\\\\\\\\\\\\\\\\\\\\\\\\\\\\
Get the latest updates from candy!
subscribe to our newsletter!
////////////////////////////////////////////////////////////////
Skip a makeup step with these beauty goodies!
Take pretty notes and study effectively with these tips!
Wait for a love like this. A love that is good to you, for you.
Are you up for this challenge?
Can't wait to see the actual gowns!
The up-and-coming musicians and childhood friends talk about their music, creative process, and why it's important to be woke.
Because when it comes to a great lip game, there's really no need to splurge!
A different language sheds new light on everyday terms.
Take advantage of the cooler weather in the metro!