All Access
7 Twitter Reactions To The 2015 British Invasion
Take our money (and our souls) already, concert gods!
The struggle is real, Candy Girls. Imagine dealing with knowing that 5 (FIVE!!!) of our favorite Brit musical acts are going to be here next year and trying to come up with a good strategy to save up and watch all of them live! So of course, we went to Twitter to check if we're the only ones feeling like a total mess right now. Good thing we're all in this together!
1. Yeah, we can totes see the future.
British invasion this coming 2015 in MNL!!! #the1975 #bastille #thevamps #edsheeran #1d I'd be a beggar!!! I need donations!!!

— yherra (@flylikeadragon) September 19, 2014
2. We know, girrrrl, we know how you feel.
WHICH ORGAN SHOULD I SELL?! #EdSheeranMNL #TheVampsinMNL

— NIK (@cuddlewith5H) September 19, 2014
3. Despite everything, we still see the silver lining.
And I love the fact that #EdSheeranMNL is a lot more 'budget friendly' than the other concerts.👌

— Wondy (@_wonderwall23) September 19, 2014
4. If only we could have money instead of tears, we'll cry our hearts out for days and weeks and months even.
Lol time to save and cry at the same time #TheVampsinMNL

— FEB 1 FECK (@Tristansxhair) September 19, 2014
5. #CAPSLOCKPARAINTENSE. We're just thinking out loud.
WHAT BAKIT KABILIS MAGBENTA NG TIX LIKE WTH NEXT MONTH AGAD? WOW HA. NEXT YEAR PA CONCERT EH. WTHWTHWTWHTWHW #EdSheeranInManila

— Jessica Vi (@namelessjessss) August 25, 2014
6. WORD!
#EdSheeranMNL #TheVampsinMNL oh okay so everyones coming except the money in my wallet #FangirlLifeIsHard

— Elaine (@blessedeleynie) September 19, 2014
7. Okay, we didn't post this on Twitter, but this is how we reacted when we heard about this British invasion this morning: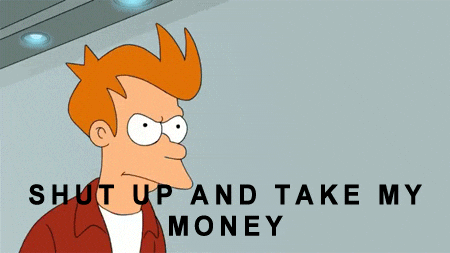 via giphy.com
How are you coping, Candy Girls? Let us know in the comments or tweet us @candymagdotcom. We always love hearing from you. :)
\\\\\\\\\\\\\\\\\\\\\\\\\\\\\\\\\\\\\\\\\\\\\\\\\\\\\\\\\\\\\\\\\\
Get the latest updates from candy!
subscribe to our newsletter!
////////////////////////////////////////////////////////////////
It's never going to be easy.
Finally, the actress speaks up about those friendship rumors.
I am a non-conformist and I am happy.
These will make your study area look less stressful!
DID YOU JUST STEP ON MY NEW SHOES?!?
According to Song Joong Ki!