All Access
7 Most Common Mistakes Fangirls Make
We understand that you just get carried away by your unconditional love for your fave celebs, but avoid making these mistakes okay?
PHOTO The CW, GIFs Giphy
1. Not reading about your fandom as often as you can...
via giphy.com
2. ...but then again, missing a few important details about your fave celebs isn't enough reason to beat yourself up or get upset with another fangirl for it. You all have a lot of things to do for school, so it's understandable if you can't find the time to read about them. Why don't you update each other instead? That will make fangirling easier and your friendship stronger.
via giphy.com
3. Using cruel words to address another fangirl. Your parents gave you beautiful names, use it. Besides, you don't want another person addressing you that way right?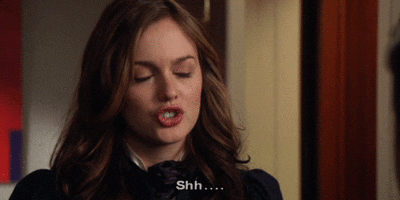 via giphy.com
4. Acting like a know-it-all, especially when a "new" fangirl is around. Help each other be the best fangirl, ever. Show her the ropes. Being a fangirl is totes more fun when you do it with other fangirls.
via giphy.com
5. Getting into a fight with another fangirl because she likes another celeb. We all have different tastes and opinions about anything and everything, so being on different teams shouldn't be a problem.
via giphy.com
6. Not supporting your fave celeb's new ka-loveteam just because they're not your OTP. Ladies, you should support him no matter what career move he's making.
via giphy.com
7. Badmouthing a celeb just because you think they're in a rivalry with your fave celeb. One, this war is just going to make things awkward for the two celebs involved. And, two, your fave celeb won't want you being mean to anyone even if you're doing it for her. Be at peace with each other.
via giphy.com
Happy fangirling, Candy Girls!
\\\\\\\\\\\\\\\\\\\\\\\\\\\\\\\\\\\\\\\\\\\\\\\\\\\\\\\\\\\\\\\\\\
Get the latest updates from candy!
subscribe to our newsletter!
////////////////////////////////////////////////////////////////
Everything you need to know about getting a custom-made gown for your 18th birthday celebration.
Don't miss the deets on Little Mix's latest troll on Zayn Malik, the demand for another Mean Girls, another Miss Peregrine's Home for Peculiar Children movie, JC Santos on being typecast in gay roles, and #TylerEndedBellaParty.
Just because it's a rainy day doesn't mean we should be gloomy.
/////////////////////////////